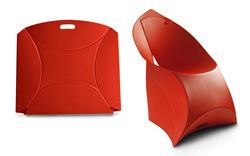 Cosmoprof Trade Show exhibitors can save 15% off foldable furniture and slatwall systems with the promo code COSMOPROFPROMO.
Tustin, CA (PRWEB) April 22, 2014
Displays & Exhibits, the premier online retailer of trade show displays and accessories, is offering a 15% off promotion for slatwall and flexible furniture products purchased with the coupon code COSMOPROFPROMO for the upcoming Cosmoprof show in Las Vegas, Nevada.
Matching the innovative and artistic aesthetic of the cosmetic industry, slatwall and flexible furniture display options help exhibitors to curate a booth space that is individual to their tastes, not to mention, easy on the eyes and budget.
Essential to building out your best trade show booth, slatwall and flexible furniture products are compact and convenient options that beautifully lend themselves to this cosmetic trade show and beyond. While slatwall squares can be built up to accommodate a unique merchandising display, flexible furniture options offer your booth visitors and sales team an eye-catching area to congregate, meet and greet.
Designed with both amenity and accessibility in mind, Display & Exhibits' limited time Cosmoprof trade show promotion is the perfect opportunity to add to or spruce up your brand's booth setup. Each product's endless versatility means you'll score additional savings beyond the initial discount when you reuse your slatwall tiles and flexible furniture in multiple designs and environments.
D&E has designed a full range of additional marketing materials and accessories, including slatwall panels, hanging signs, iPad kiosks, table top displays and more to accommodate changing brand needs. Working hand-in-hand with exhibitors from small to large organizations across the country, Displays & Exhibits provides top quality trade show booth displays that deliver results on each and every floor.
For more information on this promotion for Cosmoprof Trade Show exhibitors, call (888) 282-8858 or visit http://www.displaysandexhibits.com.
About Displays and Exhibits
Displays and Exhibits is a division of Absolute Exhibits. Established in 2000, Absolute Exhibits began as a portable/modular distributor, and now rents large custom exhibits at over 300 shows in the USA and in countries around the world.
Displays & Exhibits was created to serve the needs of first-time exhibitors, seasoned exhibitors that go to multiple local, regional, national and international shows and clients that do community work, in-house events, fairs, and festivals. The company offers portable banner stands, display boards, digital kiosks, display lights, display signage, and exhibit furniture.