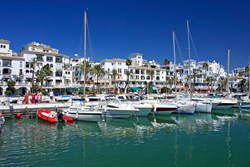 Further testimony to Costa del Sol's continuing popularity is reflected in the region's naming as the third best self-catering holiday destination for 2014 by holiday rentals website AlphaHolidayLettings.com.
(PRWEB UK) 9 June 2014
The last few years have been difficult for tourist destinations and holiday resorts throughout Europe as financial uncertainty and weakened currencies have forced holidaymakers to tighten their belts.
Southern Spain's Costa del Sol, an enormously popular holiday destination since the beginning of the twentieth century thanks to its sun-kissed climate and superb beaches, suffered more than most. At the peak of the financial crisis, statistics released by Spain's ministry for industry, tourism and commerce showed that annual visitor numbers had fallen to the their lowest level since records began, with the Costa del Sol receiving a staggering 27% drop in the number of visitors from the UK.
To many Spanish businesses' delight, as economies in Europe recover and consumer confidence builds, the Costa del Sol is reasserting itself as the sunshine destination of choice for British holidaymakers. In 2013, the number of UK visitors to the region hit 9.5 million: a five percent increase on the previous year. Further testimony to the Costa del Sol's continuing popularity is reflected in the region's naming as the third best self-catering holiday destination for 2014 by leading holiday rentals specialists Alpha Holiday Lettings.
The reasons for this accolade are self-evident. Warm, sunny and virtually rain-free during the summer months, the Costa del Sol's temperate Mediterranean climate ensures it is enjoyable to visit at any time of year. A host of airlines provide inexpensive return flights from the UK's major and regional airports, and with average flight durations of just three hours getting away for a break in the sun is quick and easy. Furthermore, Costa del Sol holidays offer a superb range of holiday accommodation to suit every taste and budget – from five-star international hotels to luxury family villas in Spain with private swimming pools, sumptuous apartments and beachfront houses.
It goes without saying that Costa del Sol boasts some of the finest beaches in Europe, but its many and diverse resorts are suitably well-equipped to cater to the desires of every holidaymaker. Cosmopolitan and picturesque Marbella holidays have been compared to France's St. Tropez and are popular with the jet-set thanks to its fine restaurants, showy harbours and world-class sporting facilities. The former fishing village of Nerja, although greatly expanded, retains much of its old-world ambience. Having resisted high-rise construction, panoramic views of Nerja's surrounding mountains are unimpeded, and the resort is a beautiful and romantic destination with a rich history. Well-established and much-loved resorts such as Fuengirola, Benalmedina and Torremolinos meanwhile offer everything needed for the perfect family holiday, each boasting many fine bars and restaurants (with fresh fish a speciality), excellent shopping opportunities, all of the recreational, entertainment and leisure activities expected of a modern European holiday resort and, of course, wonderful beaches.
About Alpha Holiday Lettings
Alpha Holiday Lettings has rapidly established itself as one of the top holiday rentals portal sites in Europe and offers self-catering apartments, cottages and holiday villas in Spain, England, France, Portugal, Italy, Cyprus, Turkey and other destinations around the world. The majority of the properties listed on Alpha Holiday Lettings are privately owned and are booked directly with holiday home owners. For more information, visit http://www.alphaholidaylettings.com.