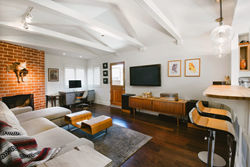 It's for homeowners that believe less can be more. That quality trumps quantity. And that there's more to life than material possessions.
Costa Mesa, CA (PRWEB) May 15, 2014
Just Listed For Sale this week, a rare mid-century bungalow is available at eco-friendly community, 12 @ Elden.
Open Houses scheduled this weekend, May 17th & 18th from 12pm to 4pm
2379 Elden Avenue, F, Eastside Costa Mesa, Listing price of $549,900
2379 ELDEN AVENUE F - Multi-Listing Service Details
"It's for homeowners that believe less can be more. That quality trumps quantity. And that there can be more to life than material possessions." says Evan Little, a real estate agent who focuses efforts on finding homes for clients that create an environmental balance. Enter 12@Elden - a repurposed niche condo community in Orange County's highly desirable Eastside Costa Mesa, featuring voluntary simplistic mid-century design, quality eco-friendly materials at an entry-level price.
This home is aesthetically appealing for the design savvy. A Dutch entry door welcomes you in, while soothing minimalistic lines and an open floor plan lead you through the home. It offers two private outdoor spaces, vaulted ceilings, brick fireplace, central AC, hardwood flooring and butcher block countertops. Community features include "green" elements, such as self-watering gardening boxes and modern drought tolerant landscaping.
Located adjacent to Newport Beach and minutes from the Back Bay, Costa Mesa enjoys cool ocean breezes at attainable housing prices. Costa Mesa is home to some of Orange County's most innovative entrepreneurs and open thinkers.
EVAN LITTLE
Evan Little is a real estate agent who is devoted to "new urbanism" real estate sales in communities that encourage sustainability and efficiency through greater zoning density, walkability, and innovative design that improves engagement between residents and eco-friendly features. Little's services range from real estate sales and leases to custom tailored property management. He is also available for marketing consulting to developers and handling new home sales. - BRE #01450867
BETTERSHELTER
Bettershelter is a boutique real estate development company that aims to fill a void in the Southern California housing market. Taking elements of residential and interior design, the result is housing that has an aesthetic rooted in Southern California design tenets and sustainable construction methods, as well as interior design that has a specific point of view and reflects the owner's sensibilities. Bettershelter recognizes there is an audience of homebuyers in Southern California that are design savvy and have an appreciation for architectural design. Bettershelter is centered on community, creativity, responsibility and sustainability.