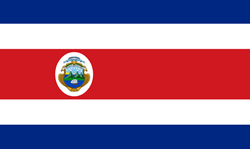 "This popular Costa Rican BBQ recipe will definitely get your taste buds flowing!." -- Peter Frank
São Paulo, Brazil (PRWEB) July 01, 2014
Costa Rica beat Greece 5-3 on penalties after their 2014 World Cup round of 16 match ended 1-1 after extra time in Recife. Costa Rica will play The Netherlands on Saturday, July 5, at 4 p.m. ET.
World Cup fans all over the world now realise that the tiny nation of Costa Rica are as keen on soccer as their neighbours. Costa Ricans love soccer through and through but there is something most Costa Ricans enjoy just as much and that's the BBQ grill.
Creative Electronic Products Inc have scoured the Internet looking for the best Costa Rican grilling recipes and have included their top recipe below.
Costa Rican Chicken and Plantain Skewers
This "salsa" is really a sauce that's sold in bottles in Costa Rica. Brush on chicken skewers while grilling, but make sure to save some for the table.
1. Grill onion and carrot over medium heat for 3 to 5 minutes on each side or until tender. Grill guajillo peppers for 10 seconds on each side, just until fragrant and lightly toasted. Place all salsa ingredients in a blender and blend until smooth. Divide into 2 bowls and set aside.
2. Thread chicken, plantains and onion onto skewers. Cook on a well-oiled grill over medium-high heat for 10 minutes, turning and brushing with half the salsa 2 to 3 times. Serve with reserved salsa.
The full recipe will appear on the Company's blog and Facebook page.
"This popular Costa Rican BBQ recipe will definitely get your taste buds flowing!." -- Peter Frank
About Creative Electronic Products Inc
Creative Electronic Products Inc are dedicated to sourcing innovative electronic products that solve common problems for everyday consumers. Their first product, the Propane GasGenie, has proved a big success with grilling enthusiasts all over the US. For more info on the Propane GasGenie, visit http://www.propanegasgenie.com. To play Hamburger Frisbee and grab your chance at winning a Propane GasGenie, visit http://www.propanegasgenie.com/fun-and-games/.