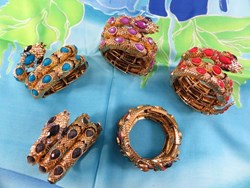 Blain, WA (PRWEB) November 03, 2013
Wholesalesarong.com unveils today its latest shipment of vintage crystal faux gemstone jewelries. The company says that this shipment brings in some of the most sterling and extensive collection of faux gemstones. They comprise of retro gemstone hair barrettes, rhinestone bangle watch, retro antique crystal faux gem bangle bracelets, rhinestone hair barrette clip, vintage inspired cuff bangle bracelet vintage crystal, rhinestone necklaces and more. The latest shipment would further compliment its massive wholesale jewelry catalog.
Wholesalesarong.com is the undisputed leader in the North America wholesale distribution industry. In addition to jewelry products, the company also supplies general fashion accessories and gift items. It started life as an online supplier in 1996 through its outsourcing activities from Far East countries like Thailand, China and Indonesia. Today it has expanded its business in term of scale and diversity of quality wholesale products it brings back into US and Canada. Wholesalesarong.com is a trusted brand among retailers, for its cheap and quality wholesale products.
"The universal appeal of real gemstone jewelry is unmistakable. But real gems are a rarity of earth, so naturally the price would always be on upward trajectory as demands grow over the years. Thankfully, thanks to modern technology and experience, enterprising jewelers are able to produce attractive Artificial stones for those who could not afford the genuine thing. In fact, the advanced manufacturing technology today means that these interesting fakes can be churned out at industry scale, thus applying further downward pressure on price, much to the delight of consumers at large," explained the spokesman of wholesalesarong.com.
"Of course, gemstone is the final piece of art, whether genuine or otherwise. That draping necklace is sure a head turner, or that ring could be really outstanding. But you need to have that gemstone attached to complete its presence. You always need that piece of gemstone to accentuate your presence," continues the spokesman.
This shipment of retro vintage jewelry is produced with precision manufacturing technique to engineer products that mimic natural gemstones. The 'replacement products' here are glass, crystal or other substances. In batch, the manufactured jewelry are made with such attention and care that they look as lovely as the real thing.
Wholesalesarong.com makes daily delivery to local retailers via standard UPS ground. For retailers located outside mainland America, please refer to the website for alternative shipping arrangements. For detailed information of the vintage style costume jewelry, please go to their wholesale jewelry line on http://www.wholesalesarong.com/wholesale-fashionjewelry.htm.
Company Info:
Apparel & Sarong is a US and Canada wholesale distributor who supplies Bali arts, clothing, fashion accessories, dresses, sarong beach wear apparel, and musical instruments to retailers and distributors. Products include aloha men's shirt, Hawaiian shirts, aloha clothing, shirts ponchos, kaftan tunic, Caribbean tropical summer dresses, boho dresses and skirts, wholesale dresses, boho dresses, maxi dresses, short dresses, hippie apparel, batik garment, mini skirt, pants, dancing wear, pashmina shawls, polyester scarf, infinitive scarf, chiffon scarf, double pendant jewelry scarf necklace, lightweight beach wrap, didgeridoo, African style drum, organic horn and bone earrings, necklaces chokers neck cuffs, pendants charms necklaces, t bar bracelet jewelry display stand, ring tray, jewelry scale, armor slave jewelry, slave bracelets, gothic jewelry, handflowers harem bracelets, gold plated ring, fashion jewelry, barrette hair clips, hair claw, hair pick, hair pin, sterling silver pendants chains necklaces, shawls and wraps, island jewelry, surfer jewelry, affirmation banner, bed cover, bangle watch, pocket watch, home decoration, beach sun hats, garden supply and Bali handicraft. For product details please go to their online wholesale catalog at http://www.wholesalesarong.com.