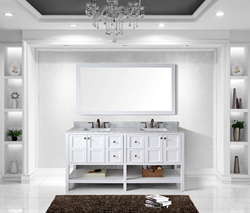 Adding antique furniture or other fixtures like a crystal chandelier or even an area rug will give a cottage style bathroom a more sophisticated old world air without making the space feel overly ornate or busy.
(PRWEB) February 16, 2014
HomeThangs.com – the Online Home Improvement Store has made their goal to deliver the right product to the consumer. With that in mind, shopping and home design tips, as well as special product selections are being introduced.
Cottage style bathrooms are traditionally pretty cozy spaces – simple, casual, and often a little bit on the small side. But cottage bathrooms have been getting a more glamorous, sophisticated treatment in recent years. HomeThangs.com has introduced a guide to dressing up this iconic style for either a very traditional or modern style.
The cottage style bathroom has been popular on and off for the last hundred years or so, but this distinctive design has its roots in actual turn of the century cottages. These cottages were typically quite small, used as vacation or summer homes rather than as a primary residence. What that means is that traditional cottage bathrooms are designed to be compact and efficient. That said, maybe the best way to dress up a cottage style bathroom is to simply add a little square footage. A little extra space will make a cottage bathroom feel grand rather than cozy and give it a little room to breathe. Upgrading from a pedestal sink to a large bathroom vanity and from porcelain tile to stone or wood will also give the space a dressier, more sophisticated look and feel.
Many of the fixtures used in cottage style bathrooms – especially pedestal sinks and clawfoot bathtubs or pedestal tubs – have a very classy appearance all on their own. They're shapely, elegant, and classic, with simple clean lines and a soft glossy finish. But while they're designed to work with a simple decor, they're also extremely easy to dress up. For example, hanging a crystal chandelier, even a small one, instantly elevates the room's style, casting those pretty porcelain fixtures in a much more elegant light.
Cottage bathrooms can also be dressed up to have a little more ornate antique flair while sticking to their simple roots. Adding in antique furniture – like upholstered chairs or chaises or small decorative tables – is an especially effective way to give the bathroom a slightly more Victorian feel without a lot of pomp and circumstance. Incorporating luxurious fabrics – like thick window dressings and area rugs – will also add texture and old world sophistication without making the space overly ornate or busy.
This might sound a little counter-intuitive, but this classic style can work in a very modern space, too. A bathroom vanity with simple, stark lines will create a nice minimalist base, while opulent, ornate pieces like chandeliers, ornate furniture, designer mirrors, and patterned wallpaper will make the space feel glamorous. The look is even more striking when done in a bold, high-contrast style and an all-over glossy finish.
Really intense black and white bathrooms create an incredibly modern, very striking look, but simply swapping a white cottage style bathroom vanity for an identical one in black is a surprisingly effective way to give the space a more sophisticated look and feel without making any other changes. Conventional cottage style bathrooms rely on lots of white to reflect light and make the space feel warm, open, and bright. But black has a more elegant look. Especially paired with a very simple cabinet design, a basic black vanity can subtly alter the tone of a cottage style bathroom, making it feel just that little bit more posh and elegant.
On the flip side, opting for a monochromatic white-on-white color scheme is another way to get a slightly more sophisticated cottage style bathroom. Cottage style bathrooms are often white-on-white to start with, but in a conventional cottage bathroom these are meant to be clean and bright, filled with warm natural light. For a more modern look, opt for cooler light and soft gray accents, which will give the space a stark, modern appearance.
To see more gorgeous, dressed-up cottage style bathrooms, check out the full article here.
HomeThangs.com is not only a home improvement superstore, it also provides expert design tips and a comprehensive shopping guide, taking the ideas from professional interior designers, and offering tips to the consumers on how to pick the products to best suit their needs.