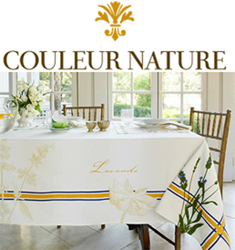 Poway, CA (PRWEB) February 01, 2014
Couleur Nature, purveyor of fine French linens, vibrant ceramics, and tasteful home accessories, is pleased to partner with Pamela Schroeder to represent her Aboda collection in the US. Aboda is a line of unique, handcrafted home décor, tableware, ceramic and jewellery items. Her new range of tableware, Natural Mettle, will debut at this weekend's New York Now Market - a showcase of the best in home, lifestyle and gift collections.
The Natural Mettle range of tableware is inspired by the South African Queen Palm Tree. The range consists of sophisticated accent pieces for entertaining, all hand-forged in steel with solid cast and exquisitely detailed brass and bronze accents. The design combines the rich texture and colour of the natural elements of Africa with the cool elegance of steel. Pieces include salad, fruit, and presentation bowls, a cake lift and knife, cheese knife, salad server set, cheese boards, wine stoppers, condiment spoons and dishes, and olive and parmesan spoons.
Couleur Nature, known for its French-inspired Indian woodblock-printed linens and elegant home decor, will carry the Aboda Collection on its website beginning in April. The company is thrilled to offer this new collection, as Schroeder's nature-inspired design philosophy complements the rich, natural designs of Couleur Nature.
Wholesalers and retailers interested in viewing the Natural Mettle range of tableware can visit Couleur Nature at Booth #3356 in the Tabletop + Gourmet Housewares Division at New York Now from February 2-6. Other Couleur Nature collections are available at http://www.couleurnature.com.
Couleur Nature was formed in 1997 to wholesale the Couleur Nature product line, a selection of fine, French-inspired Indian woodblock-printed linens designed exclusively by Bruno Lamy; later, the brand expanded to include the Caravan home accessories product line, which is comprised of the best vintage and hand-crafted home accessories from all over the world. Today, Couleur Nature's beautiful linens and home accessories are sold to both retail and wholesale customers all over the world.