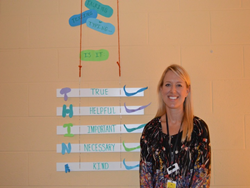 The counselors at Cumberland are essential to the happiness and well-being of our students.
Atlanta, GA (PRWEB) October 02, 2014
Atlanta school for autism, Cumberland Academy of Georgia, has implemented a revolutionary counseling department to benefit their students. The counseling team is comprised of seven qualified individuals with two counseling centers. They are focused on developing both academic and life skills for the school's students.
Counselors at Cumberland have the unique ability to consistently interact and connect with students because of the immense size of their team. They are focused entirely on the students' psychological development. Unlike other schools, the counselors are not responsible for offering career advice. This allows them to interact more with the students and focus their efforts on helping them to evolve.
Along with the academic skills learned in the classroom, students at Cumberland are taught life skills by the counseling team. Counselors recently taught students how to properly balance a checkbook; this is an example of how the school's counselors reinforce the idea that students are capable of functioning successfully outside of school.
Because many of the students at Cumberland are unable to interpret social cues, the counselors also teach them social skills. An example of this would be instructing the children on how to appropriately disagree with their peers and friends. Teaching students how to speak the same language and foster the skills of conflict resolution are at the top of their priority list. They abide by the idea that the best way to make a friend is to be a friend.
"The counselors at Cumberland are essential to the happiness and well-being of our students," said Debbi Scarborough, founding director of Cumberland Academy of Georgia. "Not only do they implement peace talks and teach the children valuable skills, they also help our students' parents build healthy and successful family foundations."
About Cumberland Academy of Georgia:
Cumberland Academy of Georgia specializes in the needs of students in grades four through 12 who have high-functioning Autism, Asperger's, Attention Deficit Disorder (ADD), Attention Deficit Hyperactivity Disorder (ADHD) and learning disabilities. Cumberland was founded in 2007 by Debbi and Matthew Scarborough, and is a fully-accredited, independent, non-profit school that seeks to provide a safe and supportive academic atmosphere for its students. Cumberland accepts applications year-round. To schedule a family tour, please contact Terri Brooks, Director of Admissions at 404-835-9000 or send an email to admissions(at)cumberlandacademy(dot)org. To learn more about Cumberland Academy of Georgia, please visit http://www.cumberlandacademy.org.