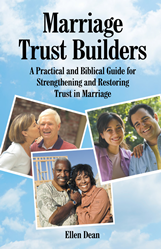 SACHSE, Texas (PRWEB) January 07, 2019
Author Ellen Dean has recently released her newest book, "Marriage Trust Builders: A Practical and Biblical Guide for Strengthening and Restoring Trust in Marriage," an inspiring and comprehensive spiritual guide for married couples experiencing a major trust betrayal within their union.
"Marriage Trust Builders" covers several key areas in the repair of a marriage and uses scenarios of fictitious couples in therapy to illustrate different situations of marriage trust betrayal, and the encouraging counseling principles in the book help the reader efficiently map out a plan for healing.
Most importantly, Dean helps couples learn the importance of forgiveness and keeping God as part of the marriage. Overall, Dean's book will help couples rebuild trust and continue to strengthen their marriage.
"Trust is vital for strong, growing and fulfilling marriages," the author said. "If couples are experiencing broken trust, I want them to read my book and know there is hope—it is found in God's word."
Kirkus Reviews describes "Marriage Trust Builders" as "a no-nonsense Christian guide to fixing a broken marriage… For those couples experiencing marital difficulties caused by infidelity or some other breach of trust and looking for solutions that are rooted in a Christian worldview, Dean provides a serious and pragmatic road map."
Married couples who acknowledge the need to fix a trust problem in their union will respond to this book and learn quickly from the easy-to-follow scenarios. They will also take away important foundational biblical principles that will help them remember not to make the same mistakes in the future.
"Marriage Trust Builders: A Practical and Biblical Guide for Strengthening and Restoring Trust in Marriage"
By Ellen Dean
ISBN: 978-1973628811 (softcover); ISBN (hardcover); ISBN (electronic)
Available at the WestBow Press Online Bookstore, Amazon and Barnes & Noble
About the author
Ellen Dean holds a master's degree in counseling and is the director and counselor of Biblical Counseling and Ministries, her private practice. She is a licensed professional counselor and supervisor (LPC-S) as well as a licensed marriage and family therapist and supervisor (LMFT-S) with four biblical counseling certifications. To learn more about Dean, please visit https://www.ellendeanbooks.com.
Contact:
LAVIDGE – Phoenix
Kalin Thomas
480-648-7540
kthomas(at)lavidge(dot)com