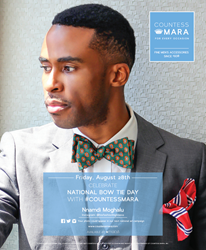 Every time our customers walk through a door could be the start of a special occasion, and we don't want to miss it.
New York, NY (PRWEB) August 20, 2015
Countess Mara accelerates its men's neckwear national advertising campaign, Countess Mara – For Every Occasion, with two different placements in the same weekend in The New York Times. Each unique lifestyle ad will appear in separate editions of this Sunday, August 23rd paper's magazines. The full-page advertisements, a wedding couple in the Fall Women's Fashion issue of T Magazine, and a men's fashion blogger in a celebration of National Bow Tie Day in The New York Times Magazine, feature shared photographs of Countess Mara fans dressed for real occasions aligning with the brand initiative's goals. Additionally, the brand has unveiled a first-time ad in the fall issue of The Knot. Countess Mara men's neckwear is available at Macy's, macys.com and Belk.
"We are very excited by the trajectory the Countess Mara brand refresh and advertising paths are taking," says Richard Carroll, Randa's creative director and senior vice president of marketing. "Celebrating dressing well with neckwear, real people and how they creatively express themselves and their occasions, is such a pleasure. The brand inspires a stylish mix and a broad reach."
The creative of this weekend's New York Times ads as well as that of the fall issue of The Knot's debut ad, successfully illustrate the brand's retooled marketing and the results of the user generated content, acquired through social media and fan posts on the redesigned Countess Mara website, as ad subjects. The advertising reflects the diversity of fans and the symbiotic relationship between whom the brand is attracting and who the brand is targeting. Everyone from the couple seemingly plucked from a seventies wedding album to the dapper fashion blogger are represented.
Countess Mara has been furnishing men's accessories that fit every occasion for nearly 80 years, for the famous and the every man, the weekend gentleman, and the businessman. What has changed are the designs, updated, elevated and modernized for the way Countess Mara customers live now, and the way they share their special occasions – from the personal to the public, the private to the social mainstream. Fans and fashion aficionados are invited to celebrate their personal style, life events and whatever makes their occasion special by sharing photos on the Countess Mara website or using #CountessMara when posting on social media. In celebrating with Countess Mara, they might become the next Countess Mara ad.
"Our new ad campaign is inspired and created by real people, sharing real occasions, captured in emotional images, and accessorized accordingly," remarks Randa Executive Vice President and Chief Marketing Officer David J. Katz "Every time our customers walk through a door could be the start of a special occasion, and we don't want to miss it. Neither do you."
Countess Mara – For Every Occasion: Ties, Bow Ties, Cuff Links, Tie Bars, and other accessories.
Available at Macy's, Belk and other fine stores, web sites, and everywhere special occasions occur.
Share yours at http://www.countessmara.com or using #CountessMara on social media.
######
ABOUT RANDA
More than the world's largest men's accessories company, Randa uses its scale and expertise to create and expand powerful brands, exceptional products and extraordinary shopping experiences. Randa: leading with accessories. Randa produces men's belts, small leather goods, neckwear, luggage, casual bags, jewelry, and seasonal accessories including footwear, hats, gloves, and gifts, bringing these to market through all channels of distribution, worldwide.