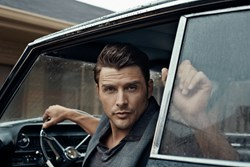 Everything was so different with him from the beginning. He has the makings of a true artist.
Nashville, TN (PRWEB) November 28, 2013
Robby Johnson, a rising country artist from Quebec who now lives in the Nashville, TN area, has just released one of his country music videos for his debut single "South of Me." The new video coincides with the official release of the single earlier this month. The album is scheduled to be released in February, 2014.
Although Robby is relatively new on the music scene, the country music artist is already getting a lot of attention for his new country songs and talent. For example, Robby has earned the DisCovery Award from Music Row's well-known music critic Robert K. Oermann, who described Robby's video as "sultry and simmering," and inspiring memories of a passionate summer romance with a "simply dreamy" production.
To help celebrate his new release single, Robby is currently on a Florida radio tour.
As Robby's biography on his website notes, when he first arrived in Nashville to record a couple of songs, he never dreamed that he would end up in the recording studio as an up and coming artist, creating six country songs in the process. But, as Robby has discovered first-hand over the years, life is not always predictable.
Although he grew up in a small town in Quebec, Robby has always been interested in everything having to do with America. Self-described as shy during his childhood, Robby spent a lot of time watching American television shows, and always dreamed that one day he would be successful. After receiving a demo session as a present, Robby realized the power of his singing voice, and in 2012 he traveled to Nashville to cut some songs. Described by songwriter and guitarist Frank Myers as a cross between Jason Aldean, John Michael Montgomery and Garth Brooks, Robby is more than ready for success in the States.
"'The minute we started working Robby, we threw out the rule book," studio musician and producer Jimmy Nichols was quoted as saying in Robby's bio, adding that he and Myers have inked Robby to their new full-service artist development company, Vision A. D.
"Everything was so different with him from the beginning. He has the makings of a true artist."
About Robby Johnson:
Robby Johnson is a Canadian-born singer that grew up in a small town outside of Quebec. Now based in Nashville, Robby recently completed his first album with the help of Grammy and multi-award winning songwriter and guitarist Frank Myers. The 12-song album, which will be released in February, 2014, showcases Robby's voice and songwriting skills. For more information, please visit http://www.robby-johnson.com/.