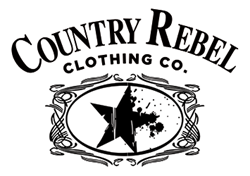 San Diego, CA (PRWEB) July 12, 2014
The highly anticipated online store for Country Rebel Clothing Co. is finally open for business, and those who have been following the new brand on social media will be pleased to know that they can now shop for their favorite Country Rebel clothing designs while listening to the best country music at CountryRebel.com.
For thousands of fans, the opening of Country Rebel Clothing Co.'s online store has been highly anticipated, and rebel girls & guys all over the nation are eager to wear their favorite designs proudly. The designs offered on the website perfectly portray the carefree and wild country rebel spirit the brand promotes, with shirts like the "Country Rebel Classic" encouraging people to "Rise Against Conformity" and "Live For the Moment".
However, underlying the rebellious nature of the brand is deep-rooted American pride. Fans who follow Country Rebel Clothing Co. on Facebook, Instagram, and other social media channels will quickly uncover an unpredictable blend of dry humor, emotionally charged song quotes, rebel attitude, and unfiltered patriotism.
Another prominent feature of the new Country Rebel website is the Country Rebel Video Vault, which is constantly updated with the best country music videos from the past and present. These videos include songs from many of the most recognizable names in country music, such as George Strait, Miranda Lambert, Reba McEntire, Jason Aldean, Faith Hill, Brantley Gilbert & many more.
Those who visit the website soon will also be pleased to know that Country Rebel Clothing Co. is holding a "Grand Opening Sale!" and many of the most popular t-shirt designs are currently being sold at up 40% off their regular price.
The Country Rebel website also offers visitors a chance to sign up for the Country Rebel VIP List for free. By signing up for the VIP list, country music fans receive special discounts on apparel, along with weekly opportunities to win free concert tickets, autographed memorabilia, and invitations to exclusive parties.
To find out more about what Country Rebel Clothing Co. has to offer, head to CountryRebel.com.