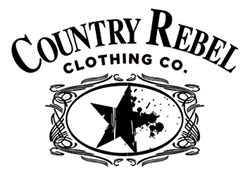 San Diego, CA (PRWEB) August 21, 2014
Country Rebel Clothing Co. is a new country music inspired clothing brand that combines high quality country apparel with premium country music and great promos for their dedicated fans. The brand, which first appeared on social media sites like Facebook and Instagram before opening its online outlet at CountryRebel.com, already has thousands of followers and fans who were stoked to finally get an opportunity to get their own Country Rebel clothing.
The Country Rebel website also offers visitors a chance to sign up for the Country Rebel VIP List for free. By signing up for the VIP list, country music fans receive special discounts on apparel, along with weekly opportunities to win free concert tickets, autographed memorabilia, and invitations to exclusive parties. One of the most recent promos offered this month gave VIP listers a chance to win some cool memorabilia from fan-favorite Brantley Gilbert. This promo's winner was announced this August 19th, so those who feel like bringing home some great country swag for free should definitely sign up to keep posted on upcoming opportunities.
The new brand is known for its mix of dry country humor, carefree rebel attitude, and the pursuit of fun above all else. The rebellious nature of the brand is also served up with a good helping of country pride, unfettered patriotism, and all the qualities of the country lifestyle that have made it so enduring and endearing.
This mix of classic and modern country can be seen in the Rebel Clothing brand's shirt designs, which include styles such as the "Country Rebel Classic", which urges people to rise against conformity and live for the moment, and the self-explanatory "Rebel Bad*ss", mixed in with styles like the very popular "Rebel America" and "Free Woman" designs.
Another big part of the newly opened website's appeal is the continuously updated Country Rebel video vault that features a great selection of the best country music videos and interviews with the hottest country music stars of today and yesteryear. With a great mix of classic country music artists like George Strait and Alan Jackson, and new phenoms like Brantley Gilbert and Luke Bryan, there is no lack of awesomeness available for those who are looking for their favorite band, or who want to discover new country music artists from all eras.
To find out more about what Country Rebel Clothing Co. has to offer, head to CountryRebel.com.