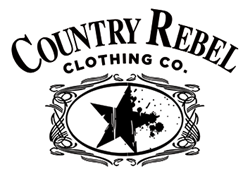 San Diego, CA (PRWEB) July 11, 2014
Country music fans who want to listen to their favorite tunes while shopping for stylish and comfy country casuals can now head on over to CountryRebel.com, the highly anticipated online outlet of Country Rebel Clothing Co. which has just recently gone live.
With some of the coolest country gear, great music videos, and awesome free country swag to be won for VIP-listers, this new online clothing and entertainment website is something country rebels nationwide will want to check out.
The Country Rebel Clothing Co. motto is bold yet simple: "Quality Threads & Entertainment"
For thousands of fans, the opening of Country Rebel Clothing Co.'s online store has been highly anticipated, and rebel girls & guys all over the nation are eager to wear their favorite designs proudly.
With the drastic evolution of today's country music scene, from what it was 30, 20 and even only10 years ago, Country Rebel Clothing Co. aims to provide fans with a fresh new look that is reflective of their care-free, rebellious nature and their desire to have fun above all else.
However, underlying this rebellious attitude, the company also has a deep pride in country and love for all that makes country folk some of the best people anyone will ever know. Fans who follow Country Rebel Clothing Co. on Facebook, Instagram, and other social media channels will quickly see this blend of both modern and traditional roots, as they uncover an un-predictable blend of dry humor, emotionally-charged song quotes, rebel attitude, and un-filtered patriotism.
The Country Rebel website boasts designs that will help country rebels show off their own unique rebel spirits. The country t shirt designs, such as the "Rebel America" shirt and the "Country Rebel Classic", will certainly help them look as tough as nails and twice as sharp.
Once at the store, by simply clicking on "Videos" in the main navigation bar, country fans are redirected to the Country Rebel video vault with music videos ranging from all-time favorites like George Strait & Garth Brooks, to today's hit artists like Brantley Gilbert & Jason Aldean.
One of the best features also available on the website is the Country Rebel VIP List, which country fans are invited to sign up for free. Upon signing for the Country Rebel VIP List, country fans may be given the chance of special discounts on select t-shirts and other clothing options. To top it all off, the website is also giving away weekly opportunities to win free gifts such as concert & country festival tickets, autographed memorabilia and invitations to the hottest exclusive parties.
For more information on what Country Rebel Clothing Co. is now offering, head over to http://www.CountryRebel.com.