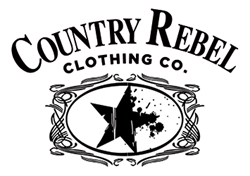 San Diego, CA (PRWEB) July 30, 2014
Those who are looking for the best place to shop for country clothing online can now head to Country Rebel Clothing Co.'s official online store, CountryRebel.com, to get their fill of "Quality Threads & Entertainment." With cool country clothing designs inspired by country music and a mix of the best country music videos available to date, those who love country music and the country rebel lifestyle will definitely find something to love here. For a limited time, Country Rebel will also be selling many of their most popular country t-shirt designs at promo prices in celebration of their online store's grand opening.
For thousands of fans, the opening of Country Rebel Clothing Co.'s online store has been highly anticipated, and rebel girls & guys all over the nation are eager to wear their favorite designs proudly. With the drastic evolution of today's country music scene, from what it was 30, 20 and even only 10 years ago, Country Rebel Clothing Co. aims to provide fans with a fresh new look that is reflective of their carefree, rebellious nature and their desire to have fun above all else. The website explains more about this mission in its "About" section. This says:
"Country Rebel Clothing Co. is dedicated to providing the highest quality designs and apparel that inspire the rebel bad ass within each of us. Our mission is simple. Inspire, pioneer and spread the country lifestyle and rebel spirit that make this the greatest nation in the world. Founded in San Diego, CA, Country Rebel Clothing Co. is innovating the country apparel and entertainment industries."
This same carefree and rebellious attitude can be seen in many of the brand's clothing designs. T-shirts styles like the "Country Rebel Classic" make statements such as "Rise Against Conformity" and "Live For The Moment," while others like the "Country Rebel Whiskey," "Rebel America" and "Bad A** Woman" designs speak for themselves. In all, the brand perfectly portrays the fun, rebellious, and patriotic blend of the present day modern country lifestyle.
The website is also a great place for country music fans to find, listen to, and watch their favorite country music videos. These videos can be accessed through the "Video" link on the website's main page, and videos within the Country Rebel video vault can be sorted by a specific country style, artist or band from the drop down menu on the right of this page. The video vault is updated with new country music videos daily, and has everything from classic country oldies to modern country hits.
The Country Rebel website also offers visitors a chance to sign up for the Country Rebel VIP List for free. By signing up for the VIP list, country music fans receive special discounts on apparel, along with weekly opportunities to win free concert tickets, autographed memorabilia, and invitations to exclusive parties.
To find out more about what Country Rebel Clothing Co. has to offer, head to CountryRebel.com.