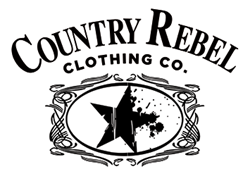 San Diego, CA (PRWEB) July 05, 2014
Country Rebel Clothing Co. is a brand new country clothing brand that serves the modern country rebel in every way possible. This new brand that derives inspiration for its designs from country music offers more than average country clothing stores by providing free entertainment and a chance to join a great community of like-minded country music fans, thousands of which have eagerly awaited the opening of Country Rebel Clothing Co.'s online store, CountryRebel.com.
Co-founders of the brand Kevin & Darin Blue believe that country is now dominated by a fresh new breed of artists and fans, that love country and all that it stands for and also seek something fresh and new. The website provides this balance of old and new, with both vintage and modern country design choices for their apparel.
CountryRebel.com also seeks to connect country fans with the best country music available, and is constantly updating the Country Rebel Video vault with the best hits from classic country music stars like Reba McEntire and George Strait, as well as today's hottest country music artists, including the likes of Brantley Gilbert, Miranda Lambert, and Jason Aldean.
Those who head to the Country Rebel website soon will also be able to avail of some great discounts, with a limited sale of 25% or more discounted from Country Rebel's most popular shirts, including the "Rebel America" and "Country Rebel Classic" designs. As if country fans needed any other incentive to visit the website - the Country Rebel website also offers visitors a chance to sign up for the Country Rebel VIP List for free! By signing up for the VIP list, country music fans receive special discounts on apparel, along with weekly opportunities to win free concert tickets, autographed memorabilia, and invitations to exclusive parties.
To find out more about what Country Rebel Clothing Co. has to offer, head to http://www.CountryRebel.com.