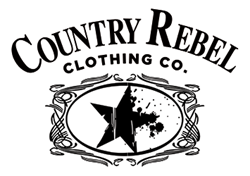 San Diego, CA (PRWEB) July 08, 2014
Country Rebel Clothing Co. recently launched its long-waited-for online clothing store at CountryRebel.com. The new site is the perfect place to go for those who are looking for the best country concert apparel for this summer's upcoming events. Those who have been following the brand on social media sites will know that Country Rebel has a unique personality all its own, with an unpredictable blend of dry humor, rebel attitude, and unfiltered patriotism.
The brand's motto is simple and to the point: "Quality Threads & Entertainment". Kevin and Darin Blue, co-creators of the new country style clothing brand, sum up their mission statement on the website's "About" section. This says:
"Country Rebel Clothing Co. is dedicated to providing the highest quality designs and apparel that inspire the rebel bad a** within each of us. Our mission is simple. Inspire, pioneer and spread the country lifestyle and rebel spirit that make this the greatest nation in the world. Founded in San Diego, CA, Country Rebel Clothing Co. is innovating the country apparel and entertainment industries."
The clothing designs available on CountryRebel.com also drive home this rebel attitude. With t-shirts like the "Country Rebel Classic" bearing quotations such as "Rise Against Conformity" and "Live For The Moment", as well as the "Rebel America" design, it is easy to get a feel for what being a country rebel is really all about.
Those who are looking for the perfect outfit for their next country concert, show, or festival will find a number of these great designs which will look just perfect paired with some Daisy Dukes and cowgirl boots for the ladies, or for the men, their best pair of cowboy jeans. They will certainly look their best and feel their best, while showing their pride in the country lifestyle and their love of great country music.
Website goers should also check out Country Rebel's video portal while they are on the website. With their unique blend of country musicians, old and new, country rebels are bound to find their favorite country tunes. The website supports a wide range of country musicians, from classic country artists like George Strait to newer rising stars like Jason Aldean.
By signing up for the Country Rebel VIP List, country fans can also get a chance to grab up some cool exclusives, such as special discounts at Country Rebel's online store, as well as winning free gifts like concert tickets, autographed memorabilia, and invitations to the hottest country parties. Signing up is absolutely free – what is there to lose?
To find out more about what Country Rebel Clothing Co. has to offer, head to http://www.CountryRebel.com