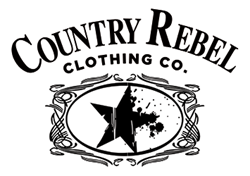 San Diego, CA (PRWEB) September 04, 2014
Country Rebel Clothing Co. promises "Quality Threads & Entertainment" to those who love country music and the country way of life. The brand, which recently opened for business at CountryRebel.com provides the "threads" part of that promise with their country music inspired clothing designs that offer a new look for the latest generation of country music fans.
The "entertainment" part of the promise is easily filled by the Country Rebel Clothing Co. Facebook and Instagram pages. Fans who follow Country Rebel Clothing Co. on Facebook, Instagram, and other social media channels will quickly uncover an un-predictable blend of dry humor, emotionally-charged song quotes, rebel attitude, and un-filtered patriotism. However, Country Rebel's true contribution to country music fans is the video vault found at CountryRebel.com.
This video section is regularly updated with the very best country music videos from every era of the country genre. With classic country music artists like George Strait and George Jones sharing the limelight with today's biggest hit-makers such as Brantley Gilbert and Miranda Lambert, this country music treasure trove has something for every country rebel out there.
The newest update to the Country Rebel Video Vault also makes it incredibly easy for visitors to find all the music posted to Country Rebel from their favorite country artists and discover new favorites, as well. This is due to the new search feature found at the top right of the main video section. From here, visitors can easily scroll down the drop down menu and click the artist, band, or country music genre that they are interested in seeing more of.
Of course, great music is not the only thing that Country Rebel has to offer. The brand's unique country music inspired shirt designs celebrate the care-free, rebel attitude that is so central to the Country Rebel way of life. The "Country Rebel Classic", which is one of the brand's best-sellers, encourages country rebels to "Live For The Moment" and "Rise Against Conformity". Others like the "Country Rebel Whiskey" and the "American Guitar", show off the fun side of the country life. One of the brand's t-shirt designs even gives a great big shout out to all the George Strait fans out there. For country music lovers who are tough as nails and want to look twice as sharp, CountryRebel.com is the place to go.
Aside from offering "Quality Threads & Entertainment" the Country Rebel brand also offers fans a chance to join their VIP list for free, which gives country music fans access to receive special discounts on apparel, along with weekly opportunities to win free concert tickets, autographed memorabilia, and invitations to exclusive parties.
To check out the updated country music video section, shop for great clothing, and learn how to sign up for freebies with the Country Rebel VIP list, visit CountryRebel.com today!