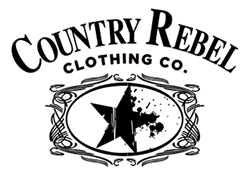 San Diego, CA (PRWEB) July 21, 2014
Those who are looking for the best online source for cool country style clothing and country music songs can now head over to CountryRebel.com, Country Rebel Clothing Co.'s recently opened outlet. The website which has the motto "Quality Threads & Entertainment" explains, "Country Rebel Clothing Co. is dedicated to providing the highest quality designs and apparel that inspire the rebel bad *ss within each of us. Our mission is simple. Inspire, pioneer and spread the country lifestyle and rebel spirit that make this the greatest nation in the world. Founded in San Diego, CA, Country Rebel Clothing Co. is innovating the country apparel and entertainment industries."
The brand is marked by a unique mix of dry humor, emotionally-charged song quotes, rebel attitude, and un-filtered patriotism. This shows in many of the country music inspired clothing designs featured on the website. Shirt designs such as the "Country Rebel Classic", which urges people to resist conformity and live for the moment, and other more light hearted designs like the new "Strait To My Heart" ensure that country rebels across the country will always have something to wear to match any occasion.
Of course, "Quality Threads" is just one side of the Country Rebel coin. The website also features a video vault that is continuously updated with the best country music videos around. With old favorites and rising country music stars alike, the website has songs every country music fan will love and enjoy. The Country Rebel website also offers visitors a chance to sign up for the Country Rebel VIP List for free. By signing up for the VIP list, country music fans receive special discounts on apparel, along with weekly opportunities to win free concert tickets, autographed memorabilia, and invitations to exclusive parties.
To find out more about what Country Rebel Clothing Co. has to offer, head to http://www.CountryRebel.com.