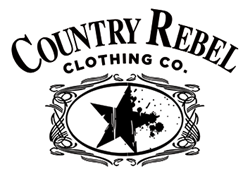 San Diego, CA (PRWEB) July 07, 2014
A new brand of country style clothing, Country Rebel Clothing Co., recently launched their highly anticipated online store and entertainment site, where fans of country music can go to shop for their favorite Country Rebel clothing designs and also watch some of the best country music videos online. The brand has already grown a fast following of young country music fans who love the "rebel spirit" of the company and the mixture of dry humor and soulful quotes that Country Rebel shares on its social media pages.
The creators of this new country clothing brand, Kevin & Darin Blue, state their mission in the "About" section of CountryRebel.com. This says, "Country Rebel Clothing Co. is dedicated to providing the highest quality designs and apparel that inspire the rebel bad a** within each of us. Our mission is simple. Inspire, pioneer and spread the country lifestyle and rebel spirit that make this the greatest nation in the world. Founded in San Diego, CA, Country Rebel Clothing Co. is innovating the country apparel and entertainment industries."
Aside from the unique clothing designs that can be found at the Country Rebel store, one of the biggest draws of the website is that it is constantly updated with some of the best country music videos around. With classics like "Amarillo By Morning" by George Strait and Reba McEntire's "You Lift Me Up To Heaven", as well as hits from today's hottest new country music artists, like Jason Aldean's "Dirt Road Anthem" and "Kick It In The Sticks" by Brantley Gilbert.
This eclectic mix of both classic and modern country music mirrors Country Rebel's own philosophy of inspiring the next generation of country music fans to live the rebel lifestyle and have fun above all else, while still having underlying roots in the deeper qualities of the country lifestyle which make this genre of music and this ideology so unique: a love of country, family, and friends, and really just having a good time.
Those who are looking to shop for their new favorite shirt (or shirts!) and also get their fill of great country music hits certainly have motivation enough to visit CountryRebel.com. However, if they needed any more encouragement, there is also the fact that the Country Rebel Clothing Co. brand offers free giveaways for those who want to sign up for their VIP List. Those who join Country Rebel's VIP List will have access to special discounts at the Country Rebel store, and also have the chance to win cool country swag, like free concert tickets, signed memorabilia, and invitations to exclusive country music parties.
To find out more about what Country Rebel Clothing Co. has to offer, head to http://www.CountryRebel.com.