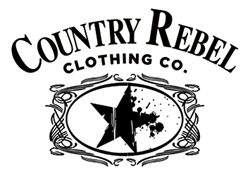 San Diego, CA (PRWEB) July 13, 2014
Country Rebel Clothing Co. recently opened its first online outlet where those who have been following the brand on social media can finally shop for their favorite country outfits while enjoying the best country music videos and increasing their chances to win cool country swag. The website, CountryRebel.com, is now also offering up to 40% off on some of the brands most popular shirt designs in honor of the online store's grand opening.
For those who are not familiar with the Country Rebel brand, the motto of the company sums up what they have to offer in the simplest terms: "Quality Threads & Entertainment" The website goes into a bit more detail in its "About" section, saying, "Country Rebel Clothing Co. is dedicated to providing the highest quality designs and apparel that inspire the rebel bad *ss within each of us. Our mission is simple. Inspire, pioneer and spread the country lifestyle and rebel spirit that make this the greatest nation in the world. Founded in San Diego, CA, Country Rebel Clothing Co. is innovating the country apparel and entertainment industries."
With the drastic evolution of today's country music scene, from what it was 30, 20 and even only 10 years ago, Country Rebel Clothing Co. aims to provide fans with a fresh new look that is reflective of their care-free, rebellious nature and their desire to have fun above all else. This rebel spirit is seen in many of the brand's clothing designs, such as the "Free Woman" tank-top, and both men's and women's version of the "Country Rebel Classic" style, which urges people to "Live for the Moment" and "Rise Against Conformity".
However, underlying the rebellious nature of the brand, is deep-rooted American pride. Fans who follow Country Rebel Clothing Co. on Facebook, Instagram, and other social media channels will quickly uncover an un-predictable blend of dry humor, emotionally-charged song quotes, rebel attitude, and un-filtered patriotism.
Those who visit CountryRebel.com should also check out the video vault, which is continuously updated with the best country music videos available today. With a broad range of styles within country music being represented – from classic country to more modern sub-genres – there is certainly something that everyone who love country music will enjoy.
Aside from "Quality Threads & Entertainment" drawing visitors to the site, Country Rebel also has a very neat feature that allows visitors to sign up for the Country Rebel VIP list. Signing up for this list is free and provides members with a chance to win cool country swag, like concert tickets and invitations to the hottest country parties, as well as entitling them to exclusive discounts from the Country Rebel store.
To find out more about what Country Rebel Clothing Co. has to offer, head to CountryRebel.com.