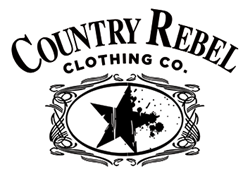 San Diego, CA (PRWEB) August 31, 2014
A recently debuted clothing and entertainment brand, Country Rebel Clothing Co., has marked the release of their online store featuring a selection of their distinctive country-styled clothing guaranteed to put a spark in the eyes of country rebels across the country. The website offers "Quality Threads & Entertainment", with the threads being provided through the company's easy to use online store, and the entertainment being provided through various social media sites, but most notably at the website itself, via the Country Rebel music video vault.
This video vault is continuously updated to provide visitors with a varied and fresh experience which will have them coming back for more. With music from every era of country music history there is something good for everyone who loves to listen to country music and watch their favorite country stars in action. While the new Country Rebel brand is geared towards the new generation of country fans, that certainly has not stopped them from updating their music video blog with some of the best classic country tunes of all time.
Recent uploads to the site include songs from country legends such as George Strait, George Jones, Conway Twitty, Merle Haggard, Waylon Jennings and Hank Williams Jr. Fans of any of these country greats, and those who want to discover some amazing new/old music, should definitely head over to CountryRebel.com to tune in and check out what else is waiting to be discovered in the Country Rebel video vault.
Of course, great music is not the only thing that Country Rebel has to offer. The brand's unique country music inspired shirt designs celebrate the care-free, rebel attitude that is so central to the Country Rebel way of life. The "Country Rebel Classic", which is one of the brand's best-sellers, encourages country rebels to "Live For The Moment" and "Rise Against Conformity". Others like the "Country Rebel Whiskey" and the "American Guitar", show off the fun side of the country life. One of the brand's t-shirt designs even gives a great big shout out to all the George Strait fans out there. For country music lovers who are tough as nails and want to look twice as sharp, CountryRebel.com is the place to go.
Aside from offering "Quality Threads & Entertainment" the Country Rebel brand also offers fans a chance to join their VIP list for free, which gives country music fans access to receive special discounts on apparel, along with weekly opportunities to win free concert tickets, autographed memorabilia, and invitations to exclusive parties.
To check out the updated country music video section, shop for great clothing, and learn how to sign up for freebies with the Country Rebel VIP list, visit CountryRebel.com today!