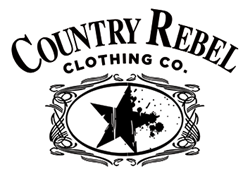 San Diego, CA (PRWEB) July 03, 2014
Country Rebel Clothing Co. is a new apparel and entertainment brand that offers something for every country music fan. Whether someone is looking for country style clothing for festivals and concerts, wants to catch up on some of the greatest country music videos around, or wants the chance to win some free goodies, CountryRebel.com is the place to go.
Now, with a limited sale going on for some of Country Rebel's most popular designs, those who are looking for the best country music inspired clothes will have even more incentive to check out the online store and browse through all Country Rebel Clothing Co. has to offer.
The inspiration behind Country Rebel Clothing Co., the highly anticipated online store which was just recently opened by creators Kevin & Darin Blue, is simply portrayed in their motto: "Quality Threads & Entertainment"
With the drastic evolution of today's country music scene, from what it was 30, 20 and even only 10 years ago, Country Rebel Clothing Co. aims to provide fans with a fresh new look that is reflective of their care-free, rebellious nature.
The company seeks to provide inspiration for the new generation of country music fans. With an edgy new country clothing line, and both classic and modern country music artists being featured on the Country Rebel video vault, the Country Rebel website strikes the perfect tone, with a new country feel that is both timeless and constantly developing and growing.
The clothing line is a good indicator of the Country Rebel way of life. With designs such as "Rebel America", "Star Studded" and "Rebel Bad-A**", the people at Country Rebel show both their rebel spirit, that is dedicated to being care-free and having a great time above all else, but is also deeply rooted in the values that underlie the country lifestyle.
In celebration of the 238th year America has been free to breed rebel bada**es and be the best darned country around, the Country Rebel online store is offering a special limited time discount on many of its most popular clothing designs. With savings of more than 25% on items such as the "Country Rebel Classic" shirts for men and women, and, of course, the "Rebel America" design mentioned above to name a few.
The Country Rebel website also offers visitors a chance to sign up for the Country Rebel VIP List for free. By signing up for the VIP list, country music fans receive special discounts on apparel, along with weekly opportunities to win free concert tickets, autographed memorabilia, and invitations to exclusive parties.
To find out more about what Country Rebel Clothing Co. has to offer, head to http://www.CountryRebel.com.