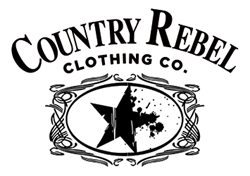 San Diego, CA (PRWEB) July 06, 2014
Country Rebel Clothing Co. is a brand new clothing and entertainment brand which is dedicated to offering men and women who are fans of country music a taste of country fashion with their quality clothing options. Country style clothing is offered in a variety of vibrant and dynamic designs that country fans can search through and buy from. Besides their great selection of clothing wares, the website also hosts a huge selection of country music videos from the best country artists that country fans of all ages can enjoy.
"Quality Threads & Entertainment" is Country Rebel Clothing Co.'s main motto, and it shows. The clothing brand's online store has been highly anticipated by country-lovin' boys and girls who have followed the brand on social media sites; with their many creative designs that are perfect for those who like to get rough and rowdy – with t-shirt designs with sayings like "Live For The Moment" and "Rise Against Conformity", country music lovers are bound to find a design that matches their country lifestyle and inspires the rebel spirit within them.
Country Rebel Clothing Co. co-founders Kevin & Darin Blue understand that country music is a drastically shifting music scene; one with many changes as each decade passes. Their mission is to provide fans with a fresh new take on country music with a more modern edge while staying true to their roots – one that promotes the carefree lifestyle that all country rebels crave.
While Country Rebel encourages the new generation of country in their pursuits of fun and having a blast above all else, the underlying beliefs still hold to what make the country lifestyle so great. The website is also hosting a limited time sale on many of the brand's most popular t-shirt designs, with savings of 25% or even more!
Website goers should also check out Country Rebel Clothing's video portal while they're on the website. With their unique blend of country musicians, old and new, country rebels are bound to find their favorite country tunes. The website supports a wide range of country musicians, from country veteran George Strait to newcomer hits like Jason Aldean.
By signing up for the Country Rebel VIP List, country fans can also get a chance to grab up some cool exclusives, such as special discounts at Country Rebel's online store, as well as winning free gifts like concert tickets, autographed memorabilia, and invitations to the hottest country parties. Signing up is absolutely free – what is there to lose?
To find out more about what Country Rebel Clothing Co. has to offer, head to http://www.CountryRebel.com.