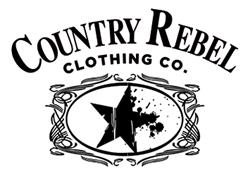 San Diego, CA (PRWEB) August 19, 2014
A recently launched clothing and entertainment brand, Country Rebel Clothing Co., offers modern & edgy apparel for men and women who love country western music and embrace the country lifestyle. In addition to offering progressive country clothing designs & accessories, the site is also geared for entertainment and has already become a popular destination for country music fans of all ages to enjoy watching country music videos from their favorite artists.
The Country Rebel Clothing Co. motto is bold yet simple: "Quality Threads & Entertainment". The new website's About section further expands on this motto, saying, "Country Rebel Clothing Co. is dedicated to providing the highest quality designs and apparel that inspire the rebel bad *ss within each of us. Our mission is simple. Inspire, pioneer and spread the country lifestyle and rebel spirit that make this the greatest nation in the world. Founded in San Diego, CA, Country Rebel Clothing Co. is innovating the country apparel and entertainment industries."
Country Rebel Clothing Co. co-founders Kevin & Darin Blue believe that a new era of music, fashion, and fans rule the country scene and are hungry for change: a rebellious youth, with strong voices, who are ready to be heard and express themselves.
This rebel attitude is definitely manifested in many of the company's most popular country t-shirt and tank top designs for men and women, with the "Country Rebel Classic" design encouraging a "Rise Against Conformity" and a call to "Live For The Moment" and other designs such as the "Country Whiskey" and "Bad*ss Woman that really speak for themselves. Those who are interested in getting their very own Country Rebel shirts should head to CountryRebel.com, where many of these crowd-pleasing shirt designs are currently on sale, some for more than 30 percent off.
Aside from great country music inspired clothing, one of the greatest treasures to be found on CountryRebel.com is its vast country music video vault. This video section, which can be accessed through the brand's main page, is continuously updated with the best county music, both old and new, and has an easily searchable format so visitors who are looking for a particular country artist can quickly find all the music that has been posted that features them. With so many great country songs, country music fans are sure to find both old favorites, as well as discover music they may not have had the pleasure of hearing before.
The Country Rebel website also offers visitors a chance to sign up for the Country Rebel VIP List for free. By signing up for the VIP list, country music fans receive special discounts on apparel, along with weekly opportunities to win free concert tickets, autographed memorabilia, and invitations to exclusive parties.
To find out more about what Country Rebel Clothing Co. has to offer, head to CountryRebel.com.