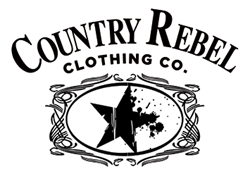 San Diego, CA (PRWEB) September 02, 2014
Country Rebel Clothing Co. gives those who are looking for cowboy clothes and great country music just what they need at their new website CountryRebel.com. The brand's motto "Quality Threads & Entertainment" easily sums up what the company promises to provide to country rebels everywhere and based on their current fan base it is apparent that the company is holding true to this promise. With stylish country music inspired clothing designs, awesome country music videos, and great discounts and freebies being given out regularly, it's not hard to tell why the brand is growing so quickly.
Those who are looking for the best discounts and deals on country style clothing this September should definitely join the Country Rebel VIP list. By signing up for the VIP list, country music fans receive special discounts on apparel, along with weekly opportunities to win free concert tickets, autographed memorabilia, and invitations to exclusive parties. Signing up for the VIP list will not cost Country Rebel fans anything, and is the best way to stay up to date on new happenings and get great exclusives, to boot!
Another easy way for fans to keep in the loop with Country Rebel's exclusive deals and online contests this month, as well as share in the rebel spirit of country rebels across the country, is to join Country Rebel's Facebook and Instagram pages. Fans who follow Country Rebel Clothing Co. on Facebook, Instagram, and other social media channels will quickly uncover an un-predictable blend of dry humor, emotionally-charged song quotes, rebel attitude, and un-filtered patriotism. This rebel spirit filters through to everything the new company has a hand in and serves to further Country Rebel Clothing Co.'s mission.
This mission is clearly stated in the company website's "about" section, which says, "Country Rebel Clothing Co. is dedicated to providing the highest quality designs and apparel that inspire the rebel bad ass within each of us. Our mission is simple. Inspire, pioneer and spread the country lifestyle and rebel spirit that make this the greatest nation in the world."
This fun, care-free, rebel attitude definitely comes off in the clothing designs featured at CountryRebel.com. For girls who love to get dirty, and guys who love to get rowdy, there really is something for everyone inside of the Country Rebel Clothing Co. store. Some of the designs include the "American Rebel", "Heart Of A Rebel", "Star-Studded", and "Rebel Bad-A**" just to name a few.
Once on the site, country rebels can also get their fill of the greatest country music videos around by heading to the Country Rebel video vault. This section is regularly updated with the best country music from every era, with music videos ranging from all-time favorites like George Strait & Garth Brooks, to today's hit artists like Brantley Gilbert & Jason Aldean.
To find out more about what Country Rebel Clothing Co. has in store this September, sign up for the VIP List here, or visit CountryRebel.com to check out the new clothes up for grabs and listen to some great country music.