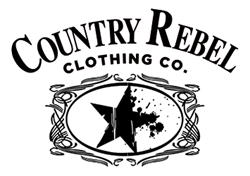 San Diego, CA (PRWEB) August 23, 2014
Country Rebel Clothing Co. is a new country clothing brand that offers rebel cowboy outfits for men and women, as well as a great venue for online entertainment with their unique country music video vault at CountryRebel.com. The Country Rebel brand also offers fans a chance to join their VIP list for free, which gives country music fans access to receive special discounts on apparel, along with weekly opportunities to win free concert tickets, autographed memorabilia, and invitations to exclusive parties.
This month's most recent online contest was joined by hundreds of Country Rebel fans, and featured memorabilia from fan-favorite, Brantley Gilbert. Members of Country Rebel's VIP List were able to enter the contest on either the Country Rebel Facebook page or the brand's Instagram account.
This fun contest, and everything else about the new company really, highlights the essence of the Country Rebel outlook on life. Fans who follow Country Rebel Clothing Co. on Facebook, Instagram, and other social media channels will already know to expect an un-predictable blend of dry humor, emotionally-charged song quotes, rebel attitude, and un-filtered patriotism from the Country Rebel brand.
This rebel attitude shows through in some of the unique clothing options offered at the Country Rebel online shop. T-shirt styles such as the "Rebel Bad*ss" and "Rebel Whiskey" pretty much speak for themselves, and the "Country Rebel Classic" comes right out and urges country rebels everywhere to rise against conformity and live for the moment.
However, cool clothing and awesome giveaways is not all that this company has to offer. Those who love country music and love discovering both new and old country music artists and bands will go nuts for CountryRebel.com's video vault. This video section is updated daily, and features the very best country songs from today and bygone years. Whether visitors are fans of the classics, like George Strait and Reba McEntire, or today's hottest stars, like Brantley Gilbert and Luke Bryan, County Rebel has something for everyone.
To find out more about what Country Rebel has to offer, and join the VIP list for free, visit CountryRebel.com.