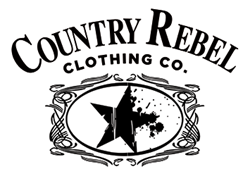 San Diego, CA (PRWEB) July 15, 2014
Country Rebel Clothing Co. recently launched its online store at CountryRebel.com. The brand's motto "Quality Threads & Entertainment" very simply states what the website has to offer. Those who have been following Country Rebel on Facebook, Instagram, and other social media sites, and are familiar with the brands unique blend of dry humor, emotionally-charged song quotes, rebel attitude, and un-filtered patriotism, will be happy to know that they can now better show their own rebel spirit with Country Rebel's one of a kind cowboy and cowgirl t shirts and tanks.
As a new country apparel brand Country Rebel Clothing Co. is dedicated to providing the highest quality clothing and designs that "inspire the rebel bad*ss within each of us". The website's about section states, "Our mission is simple. Inspire, pioneer and spread the country lifestyle and rebel spirit that make this the greatest nation in the world. Founded in San Diego, CA, Country Rebel Clothing Co. is innovating the country apparel and entertainment industries."
This rebel spirit can be seen in most of the country t shirt designs available at the Country Rebel Store. With designs like the "Country Rebel Classic" encouraging people to rise against conformity and live for the moment, and others like the "Country Rebel Whiskey" and "American Guitar", those who are looking to make a statement with their clothing choices have many options available to them.
In keeping with the second half of the Country Rebel motto, the website is also continuously updated with the very best in country music videos. These can be accessed by clicking the "Video" link on the Country Rebel main page. Here at the video vault, visitors will be able to browse through the best classic and modern country hits. Those who are looking for a particular country artist can also easily look them up by clicking on the drop down menu on the right side of the video page and selecting their favorite country artist or band.
The country-clothing brand website is also offering website visitors a chance to check out and sign up for their Country Rebel VIP List for free. Signing up for the VIP list allows country music fans to receive free exclusives such as special discount deals on clothing, and other weekly opportunities to win free gifts such as concert tickets, autographed memorabilia and invitations to exclusive parties.
To find out more about what Country Rebel Clothing Co. has to showcase, visit CountryRebel.com.