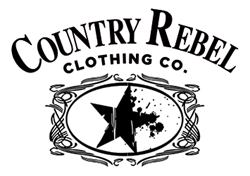 San Diego, CA (PRWEB) July 28, 2014
Country Rebel Clothing Co.'s motto, "Quality Threads & Entertainment", simply states what visitors to the new CountryRebel.com website have to look forward to. With edgy country style apparel and the best country music videos around, those who love the country lifestyle will certainly enjoy their time at Country Rebel's new site. Those who are fans of country super stars George Strait and Alan Jackson will especially enjoy Country Rebels newest country music video uploads, which feature these two artists individually and together in some of their biggest hits.
Country Rebel's video portal is continuously updated with new country music videos from the best artists of today and yesterday. Those who are looking for a particular country band or artists can easily search for them in the drop down menu to the right of the video page. Both Alan Jackson and George Strait of course have their own dedicated video sections, featuring hits such as George Strait's "Troubadour" and "Check Yes or No", and Alan Jackson's "Chattahoochee" and "It's Five O'Clock Somewhere".
Of course, no list of these two artists would be complete with their famous duet together "Murder on Music Row" and their beautiful tribute to fellow country music great and long time friend George Jones "He Stopped Loving Her Today".
Aside from the great music videos and clothing, one of the Country Rebel Clothing Co.'s best features is the Country Rebel VIP List, which country music fans can join for free. Signing up for this VIP list will enable Country Rebel fans to avail of some great discounts and exclusives, as well as gaining the chance to win cool country swag, like free concert tickets, signed memorabilia, and invites to exclusive events and parties.
To find out more about what Country Rebel Clothing Co. has to offer, visit the website at CountryRebel.com.