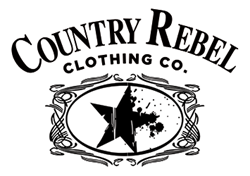 San Diego, CA (PRWEB) July 10, 2014
Country Rebel Clothing Co. is a recently opened clothing and entertainment brand which is dedicated to providing men and women who love to listen to country music with the best in country fashion, with their quality country apparel options. Country music inspired clothing is offered in a variety of vibrant and dynamic designs that country fans can search through and choose from. Besides their great selection of clothing designs, the website also hosts a huge selection of country music videos, from the best country artists from the past and present, which country fans of all ages can enjoy.
The brand's motto – "Quality Threads & Entertainment" – simply sums up what Country Rebel promises to visitors to the Country Rebel website. The "About" section on the site further elaborates, "Country Rebel Clothing Co. is dedicated to providing the highest quality designs and apparel that inspire the rebel bad a** within each of us. Our mission is simple. Inspire, pioneer and spread the country lifestyle and rebel spirit that make this the greatest nation in the world. Founded in San Diego, CA, Country Rebel Clothing Co. is innovating the country apparel and entertainment industries."
The company's carefree and rebellious nature, as well as its deep American pride in the country way of life, is evidenced in many of the country t-shirt designs available, such as the "Rebel America" shirt, and the "Country Rebel Classic" embellished with statements such as "Rise Against Conformity" and "Live For The Moment", both of which help convey the rebel spirit that the Country Rebel Clothing brand stands for.
Website goers should also check out Country Rebel's video portal while they are on the website. With their unique blend of country musicians, old and new, country rebels are bound to find their favorite country tunes. The website supports a wide range of country musicians, from classic country artists like George Strait and Reba McEntire to today's hottest country music stars like Carrie Underwood and Brantley Gilbert.
Also by signing up for the Country Rebel VIP List, country fans can also get a chance to grab up some cool exclusives, such as special discounts at Country Rebel's online store, as well as winning free gifts like concert tickets, autographed memorabilia, and invitations to the hottest country parties. Signing up is absolutely free – what is there to lose?
To find out more about what Country Rebel Clothing Co. has to offer, head to http://www.CountryRebel.com.