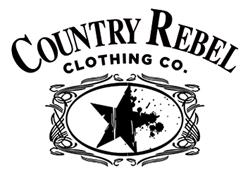 San Diego, CA (PRWEB) August 17, 2014
Country rebels who have been eagerly awaiting the opening of Country Rebel Clothing Co.'s online store can now get their fill of rebel country clothing and music at CountryRebel.com. This new website offers the very best modern and edgy country clothing designs and a great mix of country music videos that will keep country music fans entertained indefinitely. The website also hosts a special VIP list that visitors can sign up for, which will give them access to great exclusives and discounts.
As a new country apparel brand Country Rebel Clothing Co. is dedicated to providing the highest quality clothing and designs that "inspire the rebel bad*ss within each of us". The website's about section states, "Our mission is simple. Inspire, pioneer and spread the country lifestyle and rebel spirit that make this the greatest nation in the world. Founded in San Diego, CA, Country Rebel Clothing Co. is innovating the country apparel and entertainment industries."
This rebel attitude comes across in the clothing company's most popular shirt designs, such as the "Country Rebel Classic" and, of course, the "Rebel Bad*ss". These shirts for both men and women show the fun and carefree style of a true country rebel, but also hold dear the values and make the country lifestyle so unique and enduring. Those who want to check out these designs should head to CountryRebel.com soon, since for a limited time the brand is offering a number of the most popular shirts at great discounts.
Those who are looking for even more savings, as well as other awesome exclusives, should also sign up for the Country Rebel VIP List. Signing up for the VIP list allows country music fans to receive free exclusives such as special discount deals on clothing, and other weekly opportunities to win free gifts such as concert tickets, autographed memorabilia and invitations to exclusive parties.
To check out the stylish clothing options available, view the plethora of fantastic country music videos posted, and sign up for exclusive discounts and awesome freebies, head to CountryRebel.com and see what the excitement is all about.