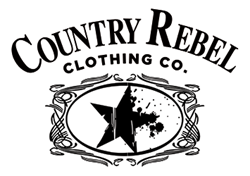 San Diego, CA (PRWEB) August 14, 2014
Country Rebel Clothing Co. is now offering the perfect combination of quality country music and rebel style clothing at their new website, CountryRebel.com. For thousands of fans, the opening of Country Rebel Clothing Co.'s online store has been highly anticipated, and rebel girls & guys all over the nation are eager to wear their favorite designs proudly. With the drastic evolution of today's country music scene, from what it was 30, 20 and even only 10 years ago, Country Rebel Clothing Co. aims to provide fans with a fresh new look that is reflective of their care-free, rebellious nature and their desire to have fun above all else.
The Country Rebel brand is dedicated to providing the highest quality designs and apparel that "inspire the rebel bada**" in everyone. The new website states, "Our mission is simple: Inspire, pioneer and spread the country lifestyle and rebel spirit that make this the greatest nation in the world. Founded in San Diego, CA, Country Rebel Clothing Co. is innovating the country apparel and entertainment industries."
This rebel attitude and fun, carefree style is apparent in all things Country Rebel ventures into. Those who follow Country Rebel Clothing Co. on Facebook, Instagram and other social media sites can expect a unique blend of dry humor, emotionally charged song quotes, unfiltered American pride and a deep love for all things country music. Country Rebel's new online shop and entertainment website continues to provide this sense of deep-rooted country tradition and modern country rebel bad*ssery with its new line of clothing and great selection of country music videos.
Some of Country Rebel's most popular country t-shirt designs for men and women depict this modern country renegade philosophy perfectly. With style titles that explain themselves, such as "Bad*ss Woman," "Country Whiskey" and "Star Studded," to the "Country Rebel Classic" for both men and women that spurs people to "Live For The Moment" and "Rise Against Conformity".
Aside from the cool country clothing now available from Country Rebel, another favorite feature of CountryRebel.com is the Country Rebel video vault. This is where visitors can view a plethora of great country music videos from the best country music artists of today and yesteryear. Whether visitors to the site are fans of modern country stars like Brantley Gilbert, Miranda Lambert and Luke Bryan, or they prefer George Strait's soothing deep voice and Dolly Parton's signature country twang, the video vault has it all! With an easily searchable drop down menu to the right of the video page, country music fans will be able to find just what they are looking for, and maybe even discover new country gems they have not heard before.
The Country Rebel website also offers visitors a chance to sign up for the Country Rebel VIP List for free. By signing up for the VIP list, country music fans receive special discounts on apparel, along with weekly opportunities to win free concert tickets, autographed memorabilia, and invitations to exclusive parties.
To find out more about what Country Rebel Clothing Co. has to offer, head to CountryRebel.com.