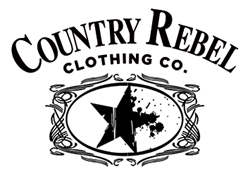 San Diego, CA (PRWEB) August 03, 2014
Those who love the fun and rebellious nature of the country lifestyle will love the great rebel t shirts now available at Country Rebel Clothing Co.'s new online shop and entertainment site. In addition to offering progressive country clothing designs & accessories, the site is also geared for entertainment and has already become a popular destination for country music fans of all ages to enjoy watching country music videos from their favorite artists.
This new country clothing brand celebrates the "rebel bad*ss" in everyone, and focuses on the fun and carefree attitude that country rebel's everywhere embrace. CountryRebel.com's "About" section gives a little more insight into the brand. It says, "Country Rebel Clothing Co. is dedicated to providing the highest quality designs and apparel that inspire the rebel bad ass within each of us. Our mission is simple. Inspire, pioneer and spread the country lifestyle and rebel spirit that make this the greatest nation in the world. Founded in San Diego, CA, Country Rebel Clothing Co. is innovating the country apparel and entertainment industries."
However, underlying the rebellious nature of the brand, is deep-rooted American pride. Fans who follow Country Rebel Clothing Co. on Facebook, Instagram, and other social media channels will quickly uncover an un-predictable blend of dry humor, emotionally-charged song quotes, rebel attitude, and un-filtered patriotism.
This attitude can be seen in many of the brand's country t shirt designs, with designs like the "Country Rebel Classic" encouraging people to rise against conformity and live for the moment, and shirts like the "Rebel Bad*ss", "Country Rebel Whiskey" and "American Guitar" Showing off the fun, patriotic and wild side of the Country Rebel brand.
The new website also offers some great entertainment via the Country Rebel video vault which is continuously updated with new country music videos. Those who are looking for a particular artist can search the drop down menu to the right of the video page, and be directed to all videos posted which feature their favorite country artist or band. With classic country hits from the likes of George Strait and Reba McEntire, to new songs from modern country stars like Brantley Gilbert and Miranda Lambert.
If country fans needed any more encouragement to check out the website, there is also the fact that the Country Rebel Clothing Co. brand offers free giveaways for those who want to sign up for their VIP List. Those who join Country Rebel's VIP List will have access to special discounts at the Country Rebel store, and also have the chance to win cool country swag, like free concert tickets, signed memorabilia, and invitations to exclusive country music parties.
To find out more about what Country Rebel Clothing Co. has to offer, head to CountryRebel.com.