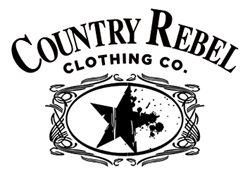 San Diego, CA (PRWEB) August 07, 2014
Country Rebel Clothing Co. is now offering exclusive deals for rebel women who are looking for quality threads that match their unique fun and rebellious lifestyles. The brand's new online shop found at CountryRebel.com, offers a wide range of country clothing styles for both men and women, and also features a video vault that is updated with the best country music videos daily. Those who are looking for "Quality Threads & Entertainment," as the Country Rebel motto says, now have a perfect place to get both.
Country Rebel Clothing Co. co-founders Kevin & Darin Blue, believe that a new era of music, fashion, and fans rule the country scene and are hungry for change: A rebellious youth with strong voices who are ready to be heard and express themselves. Driven home with their "Country Rebel Classic" shirt design, two slogans that further identify the personality of the brand are, "Live For The Moment" and "Rise Against Conformity," which inspire the rebel within us all to recognize that some rules in life are meant to be broken.
A number of the company's most popular country women's shirt designs are also now currently on sale. Shirts like the "Country Rebel Classic" mentioned above, "Heart Of A Rebel" t-shirt, and "Bad A** Woman" tank top, as well as a special shirt for George Strait fans – the "Strait To My Heart" tee – are being offered at prices of up to 30% off the original cost. These modern and edgy country style designs are the perfect addition to any country rebel girl's wardrobe.
Those who love country music will also thoroughly enjoy the Country Rebel video vault which can be accessed on the CountryRebel.com main page. With an eclectic mix of country music genres, and both new and classic country bands and artists being featured daily, there is definitely something that every country music fan will enjoy.
The Country Rebel website also offers visitors a chance to sign up for the Country Rebel VIP List for free. By signing up for the VIP list, country music fans receive special discounts on apparel, along with weekly opportunities to win free concert tickets, autographed memorabilia, and invitations to exclusive parties.
To find out more about what Country Rebel Clothing Co. has to offer, head to CountryRebel.com.