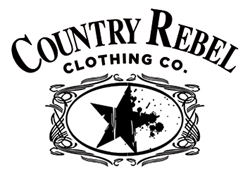 San Diego, CA (PRWEB) July 09, 2014
Those who have been eagerly awaiting the launch of Country Rebel Clothing Co.'s online clothing store will be happy to know that they can now shop for their favorite country, western and redneck clothes for women and men at CountryRebel.com. The new site upholds the brand's simple motto "Quality Threads & Entertainment" by offering Country Rebel's unique clothing designs as well as featuring some of the best country music videos of today and yesteryear.
Those who have been following the Country Rebel brand on social media already know that the brand has a unique care free and rebellious nature, which is under-lied by a deep rooted American pride. This brand is for the new generation of country folk who just do not care much for any limitations on their lifestyle and ability to have fun.
This rebel attitude comes across even in the country clothing designs found at the Country Rebel online store. With design names like "Heart of a Rebel" and "Country Rebel Classic" which inspires the "rebel bad-a**" within us all with quotes like "Live for the Moment" and "Rise Against Conformity". Those who are looking for some awesome new threads that show off their country pride will also be happy to know that for a limited time there is a sale on many of Country Rebels most popular products.
Website goers should also check out Country Rebel Clothing's video portal while they're on the website. With their unique blend of country musicians, old and new, country rebels are bound to find their favorite country tunes. With classic country artists like Reba McEntire and George Strait, as well as today's biggest country stars, including the likes of Brantley Gilbert, Miranda Lambert, and Jason Aldean, there is definitely something for everyone.
Also, by signing up for the Country Rebel VIP List, country fans will get a chance to grab up some cool exclusives, such as special discounts at Country Rebel's online store, as well as winning free gifts like concert tickets, autographed memorabilia, and invitations to the hottest country parties, all absolutely free.
To find out more about what Country Rebel Clothing Co. has to offer, head to http://www.CountryRebel.com