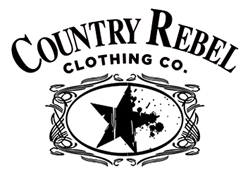 San Diego, CA (PRWEB) July 04, 2014
Country music fans everywhere who are looking for the best place to shop online for country rebel redneck clothing while listening to some of the greatest country music songs of all time can now head to CountryRebel.com to fulfill their needs. This new website, a creation of brother's Kevin and Darin Blue, is the highly anticipated outlet for Country Rebel Clothing Co., and those who have been following the brand on social media sites are now finally able to shop for their new favorite country clothing designs.
Country Rebel Clothing Co. co-founders Kevin & Darin Blue believe that the new era of music, fashion and fans rule the country scene and are hungry for a change: a rebellious youth, with strong voices, who are ready to be heard and express themselves. This is driven home with many of the clothing designs, including favorites such as the "Country Rebel Classic" t-shirt design which encourages the rebel spirit inside all of us with quotes like "Rise Against Conformity" and "Live For The Moment".
While Country Rebel encourages the new generation of country in their pursuits of fun and having a blast above all else, the underlying beliefs still hold to what make the country lifestyle so great. In honor of this year's celebration of Independence, the website is also hosting a limited time sale on many of the brand's most popular t-shirt designs, with savings of 25% or even more!
The Country Rebel website also offers visitors a chance to sign up for the Country Rebel VIP List for free. By signing up for the VIP list, country music fans receive special discounts on apparel, along with weekly opportunities to win free concert tickets, autographed memorabilia, and invitations to exclusive parties.
To find out more about what Country Rebel Clothing Co. has to offer, head to http://www.CountryRebel.com.