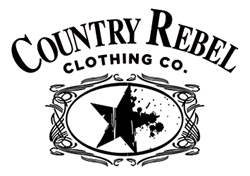 San Diego, CA (PRWEB) September 06, 2014
Those who love country music and the country way of life have a kindred spirit in Country Rebel Clothing Co. The new clothing brand and entertainment site conveys its love for country music through their country music inspired clothing and the ever-expanding entertainment section of their website, where fans can watch country music videos from their favorite country artists from every era.
With the drastic evolution of today's country music scene, from what it was 30, 20 and even only 10 years ago, Country Rebel Clothing Co. aims to provide fans with a fresh new look that is reflective of their care-free, rebellious nature and their desire to have fun above all else. Country Rebel Clothing Co. co-founders Kevin & Darin Blue believe that a new era of music, fashion, and fans rule the country scene and are hungry for change: a rebellious youth, with strong voices, who are ready to be heard and express themselves.
The website is geared for entertainment with its Country Rebel Video Vault that can be accessed from Country Rebel website's main page. This section is continuously updated with the best country music videos and interviews with great country music artists. One of the recent videos uploaded to the site takes a look at country music legend, George Strait's illustrious career and contribution to country music as it is known today.
The "George Strait – Career Highlights" video introduction also shares some insight from GeorgeStrait.com. Here it says, "With a career that spans three decades, Strait has racked up the most #1 singles of any artist in history including Elvis (60 to date inclusive of all charts). In addition to his nearly 69 million records sold, his 33 different platinum or multi-platinum albums account for the most RIAA platinum certifications in country music and is 3rd in all genres behind only The Beatles and Elvis Presley. Strait was inducted into the Country Music Hall of Fame in 2006."
George Strait fans can also enjoy the dozens of other songs by their favorite artist that have been posted to CountryRebel.com. George Strait's biggest hits such as "Check Yes or No", "All My Ex's Live In Texas", and "You Look So Good In Love" are all present and accounted for along with many, many others. Fans can view all these songs by clicking the drop down menu at the top left of the video page and selecting the right name.
Visitors to CountryRebel.com can look up all of their favorite country artists in this way and enjoy all the wonderful country music they want. New videos added to Country Rebel along with George Strait's most recent uploads include songs from Alabama, Dolly Parton, Willie Nelson, Shania Twain, Steve Earle, Martina McBride, Waylon Jennings and Gretchen Wilson.
Of course, great music is not the only thing Country Rebel has to offer. The brand's motto "Quality Threads & Entertainment" promises quality threads, and they certainly deliver on that promise. With stylish country shirts for both men and women, and even a shirt for die-hard George Strait fans, there is something for every country rebel who is hard as nails and wants to look twice as sharp.
If that is not enough reason to head to the website, Country Rebel also offers visitors a chance to sign up for the Country Rebel VIP List for free. By signing up for the VIP list, country music fans receive special discounts on apparel, along with weekly opportunities to win free concert tickets, autographed memorabilia, and invitations to exclusive parties.
To find out more about what Country Rebel Clothing Co. has to offer, head to CountryRebel.com.