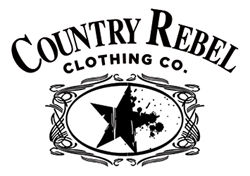 San Diego, CA (PRWEB) August 30, 2014
A new promo from Country Rebel Clothing Co. offers some of the brand's most popular western shirts for women at up to 25 percent off this week. The company, which is known for its fresh new look that is geared towards the new generation of country music fans, promises "Quality Threads & Entertainment" and definitely delivers on that promise with its recently opened online store and country music video vault.
Information on this week's special discount on ladies' shirts can be found at the store itself, as well as on Country Rebel's Instagram and Facebook accounts. Country fans who follow the brand on social media will not only be able to easily keep up to date on any promotions (and even contests!), but will also get a good taste of what defines Country Rebel as a new brand. Followers of the company on Facebook, Instagram and other social media channels will quickly uncover an un-predictable blend of dry humor, emotionally-charged song quotes, rebel attitude, and un-filtered patriotism.
This rebel spirit can be seen in many of the brand's most popular shirt designs. The "Heart Of A Rebel" ladies shirt, which is on sale this week, speaks for itself, while the "Country Rebel Classic," another of the shirts included in this week's promo, outright encourages rebels everywhere to "Rise Against Conformity" and "Live For The Moment."
For girls who love to get dirty, and guys who love to get rowdy, there really is something for everyone inside of the Country Rebel Clothing Co. store at CountryRebel.com. Some of the designs include the "American Rebel", "Rebel Heart", "Star-Studded", and "Rebel Bad-Ass" just to name a few.
Once at the store, by simply clicking on "Videos" in the main navigation bar, country fans are redirected to the Country Rebel video vault with music videos ranging from all-time favorites like George Strait & Garth Brooks, to today's hit artists like Brantley Gilbert & Jason Aldean.
The Country Rebel website also offers visitors a chance to sign up for the Country Rebel VIP List for free. By signing up for the VIP list, country music fans receive special discounts on apparel, along with weekly opportunities to win free concert tickets, autographed memorabilia, and invitations to exclusive parties.
To find out more about what Country Rebel Clothing Co. has to offer, head to CountryRebel.com.