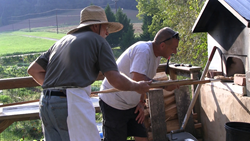 Hendersonville, NC (PRWEB) October 01, 2014
Patryk Battle has been teaching artisan bread making for 10 years. Together with his colleagues from Living Web Farms, he'll be teaching bread making throughout the day at the True Nature Country Fair, October 4th at Highland Lake Cove, near Asheville, North Carolina. Battle and his colleagues will be educating fair-goers all day at the event's outdoor kitchen, offering classes on bread, charcuterie, sauces, and winter-time recipes.
"The Fair is an effort to bring craftspeople, farmers, and others in the southeast together for a celebration and networking opportunity," says organizer Karen Vizzina. Modeled after the Common Ground Country Fair in Maine, True Nature requires that 50% of all items featured or sold at the Fair be locally produced. In addition to demos and classes, the Fair features thought-provoking video screenings, a community dinner, and banjo and fiddle contest.
"Our mission is to raise awareness for sustainable living and ecological resilience," Vizzina continues. Each year she invites the local community to gather and present an assortment of hands-on educational exhibits and workshops. "Together we plant seeds of awareness that sprout into ideas and actions that change attitudes, lives, and ultimately, the world."
Living Web Farms is partnering with the Fair to offer cooking and growing information throughout the event, focused on healthy food and healthy living. A description of each class offered in the Fair's outdoor kitchen is below.
For more details about the Fair, visit http://www.truenaturecountryfair.org. Pre-registration is not required. Admission is $10 at the gate, and participants have full access thereafter.
Living Web Farms is a non-profit, organic education and research farm network in Mills River, North Carolina. The organization oversees three farms, four greenhouses, and multi-species livestock. Produce and meat from the farms is donated to food banks across western North Carolina. For information on upcoming workshops, or to watch videos of past workshops, visit LivingWebFarms.org.