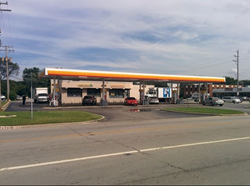 Countryside, IL (PRWEB) October 29, 2015
A fully operational Shell gas station and convenience store on a busy intersection near Chicago has been listed and will be auctioned off by the nearby Green Bay-based firm Micoley.com on December 2 if it is not sold by then. Micoley.com founder & CEO Wade T. Micoley is excited to be involved in finding a new owner for the property who is looking to add to their commercial portfolio.
"This is a terrific gas station/c-store combination property," he said. "Not only has the store been recently remodeled, but the property is also located at a busy intersection in one of the most densely populated areas of the country. We can't wait to find the property a new owner and see what he or she ultimately does with it."
The 1,400 square foot building sits on 0.34 acres and sports a detached canopy and 4 pumps with 8 hoses. There are three 10,000 gallon tanks: one is fiberglass, the other two are steel. The station has a history of good gas and store retail sales. The price includes both the real estate and the business. Actual sales volumes will be disclosed upon request. The property's official address is 1422 W 55th Street Countryside IL 60525.
The property is listed at $895,000 with an opening bid of $675,000 if no offer is received before the December 2 auction.
Countryside, Illinois is located in Cook County about 20 miles southwest of Chicago down Interstate 55. Nicknamed "Chicago's Western Gateway," Countryside was a rural farming community until after World War II, when families began settling outside cities to create suburban communities.
Interested parties should visit micoley.com to find more photos and details about the property, or visit in person and perform an inspection on site, which is highly recommended. (866) 371-3619 is Micoley.com's information line. Additionally, Micoley.com features a live chat service through which questions can be answered.
About Micoley.com:
Green Bay, Wisconsin-based Micoley.com is a real estate marketing firm specializing in project focused auctions and sales events of bank-owned and traditionally listed Real Estate throughout the United States. The Micoley.com approach to Real Estate marketing tailors each auction plan to the client's individual needs. The site is constantly being updated for the benefit of buyers, as large-scale auction events are held quarterly, and new properties are added daily.