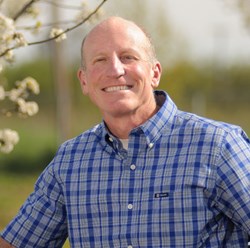 "This appointment is important and allows me to build National awareness of the need for water, particularly Temperance Flat dam, the need to preserve agricultural lands and reduce regulations that are stifling agricultural businesses." David Rogers
Madera, CA (PRWEB) October 28, 2013
District 2 Supervisor David Rogers has been nominated to the National Association of Counties (NACo) Agriculture and Rural Affairs Steering Committee.
"This appointment is important and allows me to build National awareness of the need for water, particularly Temperance Flat dam, the need to preserve agricultural lands and reduce regulations that are stifling agricultural businesses," Rogers said.
NACo's committees are comprised of county officials from every region of the country. NACo is the only national organization that represents the nation's 3,068 counties. Steering committees review and make recommendations on issues and legislation to help develop policy for the American County Platform, which NACo uses to express county government's message to the Administration, Congress and the American public.
Madera County's 2011 agricultural production increased 16.39 percent over 2010 production, amounting to almost $1.6 billion. Almond production was the leading crop with a value of more than $400 million. Other crops listed in the report include milk, grapes, pistachios, cattle and calves, replacement heifers, alfalfa, hay and silage, corn, train and silage, pollination and poultry. A wider range of crops produced in Madera County include berries, citrus, cotton, olives, stone fruit, vegetable crops and walnuts.
"A recent study performed by a California university predicts that the need for our products will double by 2050," Dave Rogers said. "This place—Madera County—is of vital importance. We have to work to build a better foundation that will allow this industry to grow."
Representation on the national level for the betterment of all the country's counties is a tremendous responsibility Rogers said he is ready to undertake, especially this year with a federal administration currently developing policy on several issues facing counties and a new congress to be convened next year, according to NACo president, Chris Rodgers.
Rogers also sits on NACo's Labor and Employment Steering Committee.
Media Contact:
Brandon Hopkins
Media Manager
673 Harbor Dr.
Madera, CA 93637
559-871-1613