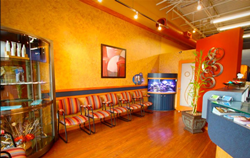 LAUDERHILL, Fla. (PRWEB) March 16, 2020
County Line Chiropractic Medical and Rehab Center of Lauderhill, Florida seeks to raise awareness for non-surgical treatment options for car accident victims. Many accident victims in South Florida are treated with invasive surgery or addictive medication that may do more harm than good by masking pain and increasing the risks of complications. County Line Chiropractic is a full-service rehab center offering an alternative: customized care plans and natural treatments that focus on the source of pain to help the body heal.
County Line's Lauderhill chiropractors, Dr. Vivian Solivan and Dr. Angel Zamora, specialize in the treatment of common accident injuries including whiplash, herniated discs, nerve damage, and pain of the back, neck, and shoulders.
At the Lauderhill clinic, County Line Chiropractic therapies for accidents include, but not limited to, Kinesio taping, massage therapy, chiropractic adjustment, physical therapy, ultrasound therapy, and electrical muscle stimulation (EMS). These treatments are designed to complement each other to help joints move freely, align the spine, and relieve muscle tension and pinched nerves.
To assist patients in seeking care as conveniently and quickly as possible, County Line Chiropractic offers transportation for accident victims to the Lauderhill clinic with a fast, all-digital intake process and online appointment scheduling. Walk-ins are welcome or accident victims can schedule an appointment and transportation by calling the clinic at (954)-741-4646.
The County Line Chiropractic Lauderhill clinic is located at 5425 N University Drive, Fort Lauderdale, FL 33351. The Lauderhill location hours are:

Monday, Wednesday, and Friday 9 a.m. – 7 p.m.
Tuesday and Thursday 2 p.m. – 7 p.m.
Saturday 9 a.m. – 12 p.m.
Stay in touch with County Line Chiropractic on social media and read their reviews today:
More About County Line Chiropractic
County Line Chiropractic Medical & Rehab has focused on providing effective and non-invasive wellness services for South Florida patients since 1986 with a team of experienced chiropractors. Their mission to help patients find effective pain relief through natural recovery is the focus of all five locations in Lauderhill, North Miami Beach, Miami Gardens, Pembroke Pines, and Plantation. For more information, please visit https://www.countylinechiro.com/ or call 1-800-811-1231.