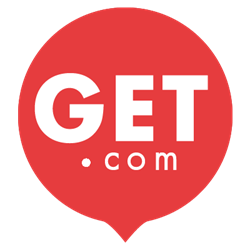 GET.com has partnered with more than 5,000 online merchants and department stores to provide easy and fast access to tens of thousands of coupons
New York, NY (PRWEB) April 25, 2014
Want a shopping deal, but don't want to spend hours looking for it? Looking for online coupons or promo codes can be a tedious task, but with the launch of GET.com, a new online coupon code website, that experience will be transformed into one that is fast, simple and enjoyable.
Founded by DailyMarkets.com co-founders Grace Cheng and Pedro Pla, GET.com is set to revolutionize the way consumers browse, share and use coupon codes to save the most money when doing their online shopping. While DailyMarkets.com is all about helping consumers save money on the financial products they need, such as credit cards, mortgages, insurance and so on, GET.com aims to help consumers save money by providing the best coupons and deals available from thousands of online merchants and major department stores so that consumers can easily get the best deal for whatever product or service they are looking for.
"GET.com has partnered with more than 5,000 online merchants and department stores to provide easy and fast access to tens of thousands of coupons," says Grace Cheng, co-founder of GET.com. "Our years of experience in helping consumers save smart daily at DailyMarkets.com have given us invaluable insight into how we can make the online shopping experience a top priority when it comes to finding and using coupon codes and promotional codes to save money."
Many coupon websites out there date back to the late 90's, hence their dowdy design and messy layout, making it difficult for consumers to browse and look for deals. With that in mind, GET.com is given a modern and trendy design, giving priority to the whole user experience, making it easy for consumers to browse and find coupon codes.
Current features of GET.com include:

Easy browsing of tens of thousands of online coupons from more than 5,000 retailers shipping to US consumers;
The ability to search for deals and coupons by product category, such as electronics, clothing, baby, travel and more;
Daily updated coupons and deals so that consumers can always see the latest promotions;
A curated pick of popular stores offering the latest coupons and deals
"We aim to be the number one site for online Coupon Codes, in terms of the widest variety, best deals and the most fun social shopping experience," says Grace Cheng. "In the next few months, GET.com will roll out even more exciting new features that will elevate the shopping experience, and will also add more and more merchants to meet customers' demand."
About GET.com
GET.com is a new online coupon website that aims to help consumers save money with the best coupons and deals from thousands of retailers. GET.com was co-founded in April 2014 by Pedro Pla and Grace Cheng, who was named as one of the 'new kids in cyberspace' by Financial Times. They also lead the team behind DailyMarkets.com, a leading US consumer finance site founded in 2008 with a special emphasis on educating US consumers about the best credit cards. For more information, visit GET.com and DailyMarkets.com.
You can also find GET.com on: Facebook, Twitter and Google+.