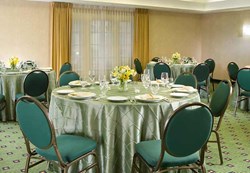 Henderson, NV (PRWEB) September 17, 2013
Neon lights flashing, bells ringing and celebrating, all are ingredients for a feast for the eyes and ears in Las Vegas. But when business professionals need a quiet place to make a deal or partake in corporate training, the Courtyard Las Vegas Henderson/Green Valley just has the answer.
The Henderson hotel excitedly re-introduces its 816-square-foot Meeting Room A with a fresh new look and complimentary Wi-Fi access. This space is available for groups of up to 50 people and ideal for corporate training sessions, company meetings and any number of social events. The Henderson, NV, hotel now has three meeting rooms with 1,456 square feet of flexible space as well as a business center with complimentary high-speed Internet access and a printing kiosk. Each of these amenities aims to make business gatherings and events more productive and enjoyable.
Just about 10 miles from the Las Vegas Strip, the Henderson, NV, hotel believes that each room and suite should be a private haven for guests. Las Vegas is an exciting, fast-paced city with so much to see and do, so visitors should be as comfortable as possible when returning to their room.
With 155 spacious rooms and six luxurious suites, the hotel provides numerous amenities designed to make business travelers and families alike feel right at home. Rooms are equipped with irons and ironing boards so business professionals can look their best as they head into that important conference being held onsite in the newly renovated meeting room. They can also count on Paul Mitchell products to help them clean up and put the polishing touch on their look for the day. After intense strategic planning meetings and adventurous explorations in Sin City, guests can return to their rooms and enjoy a movie or the nightly news on a 32-inch flat-screen television while relaxing in comfortable beds topped with crisp linens, custom comforters and fluffy pillows, components necessary for a sound night's sleep. Before heading down to have breakfast at the Courtyard Café, sleepy vacationers can enjoy their morning coffee without leaving their room by brewing that first cup with the in-room coffeemaker.
When looking for a healthy and hearty start to the day, vacationers can visit the Courtyard Café, serving up an affordable buffet. Breakfast options include made-to-order eggs, sausage, bacon, hash browns and fresh waffles. Diners looking for something lighter can choose cereal, bagels, muffins, yogurt or fresh fruit.
If lodgers feel like they've over-indulged themselves, the Las Vegas Henderson/Green Valley hotel contains a state-of-the-art fitness center and outdoor pool. The Henderson hotel fitness center contains cardiovascular equipment and free weights, so exercisers can work off a big meal or work-related stress on a treadmill, elliptical machine or stationary bike.
About Courtyard Las Vegas Henderson/Green Valley
The Courtyard Las Vegas Henderson/Green Valley hotel is about 5 miles from McCarran International Airport. The hotel boasts 155 rooms and six suites as well as three meeting rooms with 1,456 square feet of flexible space, a fitness center and outdoor pool. Vacationers can enjoy local sights and attractions such as The District at Green Valley Ranch, Ethel M. Chocolate Factory Tours, Fremont Street Experience and the Las Vegas Outlet Mall. A complimentary shuttle makes three stops daily at Mandalay Bay so guests have easy access to the Las Vegas Strip. For information, visit http://www.marriott.com/LASGV and add the hotel to a circle on Google Plus.