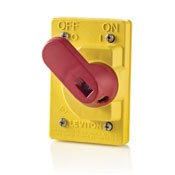 Issaquah, WA (PRWEB) October 16, 2013
Online tools and hardware store TheHardWareCity.com is expanding its offering of watertight and dust tight toggle switch covers with a new device. The Wetguard Watertight Toggle Switch Cover, manufactured by Leviton, is part of the company's popular wetguard® product line designed for watertight protection of electrical wiring equipment.
True to its commitment to offer high-quality items at reasonable prices, TheHardwareCity.com is selling this toggle switch cover at a discount rate of $36.21, down from its regular retail price of $52.68.
Fully compliant with NEMA 4 and 4X ratings and with IEC IP 66 requirements, the Cover S is suitable for both indoor and outdoor use and can be mounted in all and any environments that are generally subject to dirt, moisture, vapor and other contaminants. The industry exclusive toggle switch cover can even be used under high-pressure water flows.
Available in yellow and with a red handle, thiswetguard ® toggle switch cover is made of high-grade Valox ® PBT for proper insulation and increased resistance to impact and chemical agents. This makes the device usable for an extended period of time even in more extreme and abusive environments. The stainless steel mounting system and assembly screws further ensure proper tightening of the Cover S and provide excellent resistance to corrosion.
The watertight toggle switch cover weighs only 1 lb. and is also equipped with an actuator that makes it very easy to operate with gloved and/or wet hands, without any safety hazard. The integrated lockout/tagout handle capabilities are in line with OSHA safety regulations.
Cover GS, the gray version of the Cover S toggle switch cover, is also available at TheHardWareCity.com. The gray cover-red handle device has the same technical specifications and sells for the same discount prices of $36.21 and $167.74, respectively, for the four-pack version. Both mount covers can be used with all toggle switches between 15A and 40A, including industrial grade switches and manual motor starters.
To find out more information about the Leviton-manufactured wetguard ® watertight toggle switch covers or to purchase the devices, visit http://www.thehardwarecity.com/.
About TheHardwareCity.com
Founded in 2007, TheHardwareCity.com is currently one of the largest retailers of hardware and tools to operate exclusively online. The retailer supplies equipment and products for all kinds of home improvement projects, from building supplies to heating and electrical, plumbing, lawn and garden equipment, among many others. Besides offering top quality products at affordable prices, TheHardwareCity.com experts are available via a live website feature to assist customers in choosing the right equipment for their projects.