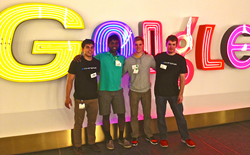 That's why we chose to give every photographer their own free website, forever.
San Francisco, California (PRWEB) June 24, 2014
No doubt you've heard of photography sites like 500px, Flickr, Zenfolio, SmugMug, PhotoShelter, etc. What you might not have heard is that four college students have managed to grow a photo site to almost 10,000 users and over 250,000 photos from their dorm rooms. It's called coversplash, a new website that gives photographers gorgeous websites for free and the ability to earn 100% commission on their photos. Their mission is to create the most beautiful outlet to promote, share, and sell as a photographer. Here's what they offer:
1. Your Own Website, Free Forever
When interviewed, coversplash co-founder Joe Laresca stated, "We want to do what's right for the photographer, and not just squeeze every penny out of them like most sites do. That's why we chose to give every photographer their own free website, forever."
2. More Than Social
While some sites like 500px or flickr only provide a social space for photographers to interact, coversplash decided that it was more beneficial for photographers to have their own professional website to showcase and sell their work in addition to having access to a strong community of photographers and a space to connect.
3. 100% Commission On Image Sales
That's right, coversplash is giving photographers something that no site has done before—100% commission on the photos they sell and complete control over licensing. Not only can photographers set the price of their own photos, but they can also buy prints and canvases of their photos through CanvasPop.
4. A Rockstar Team
It's extraordinary to think that this site was born from the vision and skill of a young and talented collective of students, entrepreneurs, and designers. If you still aren't impressed that they built this site themselves, the team has grown to include 14 people including some rockstar advisors such as Ralph Guggenheim, co-founder of Pixar and producer of Toy Story.
Features Include:

11 highly-customizable template designs
Custom domain name
100% commission on the images sold with full license control
Unlimited uploads
Stories allow users to create narratives through photos, text and videos
Connection to a social network of thousands of photographers
Analytics to see how much traction photos and the website are gaining
Interact with other users by following, favoriting, and commenting on their photos
A full suite of photo printing options through CanvasPop
Real-time news feed displaying uploads and social activity of followers
For even more features, photographers can upgrade their portfolio for just a few dollars a month. Coversplash stands by its commitment to give every photographer access to the online tools they need, and all premium options are offered at a lower price than any other competitor.
With all of these features combined into one beautiful site, what's not to love? This is what makes them so exceptional—a revolutionary, design-focused product and an incredible, passionate team. Go ahead and check them out: coversplash.com.
Contact:
Joseph Laresca, Co-CEO & Co-Founder
joe(at)coversplash(dot)com
Joseph Laresca | Linkedin
347.628.0788