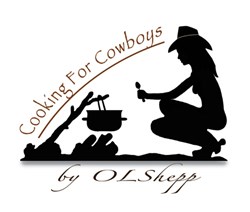 Cowboy up your cooking and crate nutritious meals like homemade granola, smoothies, and hamburgers for your family as they go back to school.
Cody, Wyoming (PRWEB) August 29, 2013
O.L. Shepp's upcoming book of short stories, family recipes and western humor, "Cooking For The Health Of It" will help busy parents and cooks create unique, healthy meals for back to school ease, cowboy style.
The end of summer means back to school. And back to school means good dinners and the need for meal-time magic from the kitchen.
Busy schedules and demands leave all cooks looking for creative, simple and healthy recipes, giving cooks no better reason to cowboy up the kitchen.
The family's nutrition should not suffer from hurried mealtime preparations.
Cooking is primarily to feed hungry tummies. Cooking is nourishment. A good meal is often the only preventive medicine that cowboys and cowgirls will take time for. Yet, cowboys spend as little time as possible in the kitchen.
The hours between lunch and dinner often can stretch beyond the hopeful six to seven. Pockets filled with cookies, dried fruit and other snacks run dry when shared with one's eye batting cayuse. Holes in bottom of these pockets can also leave Hansel and Gretel-like trails behind in the dust. Therefore, with the many involuntary reasons of a Cowpuncher's hunger; dieting is not a habit voluntarily practiced.
Cowboys and cowgirls never take up the habit of starving the body of adequate nutrients by choice. Good food and happy tummies are a "cowboys" preventive medicine. Cowboys like to eat, and will come in from a busy day for a good meal.
Food is our fuel and everyone is busy, even cowboys.
Granola
6 C. old-fashioned oats
2 C. wheat bran
1 C. wheat germ
½ C. chopped nuts
½ c. chopped coconut
¼ C. sesame seeds
½ C. olive oil
1 C. honey
1Tbsp. vanilla
Mix all ingredients in large bowl. Heat oil, honey and vanilla in saucepan over low heat.
Coat dry ingredients with heated mixture until well covered and stir.
Spread granola in 12X 18 baking pan. Bake at 300 for 45-50 minutes.
Add dried fruit, chocolate chips or any extras while still slightly warm.
Store in airtight container.
Seven Steps To Cowboy Up Your cooking, gives moms, dads, caregivers the tools and resources to create nutritious breakfasts like homemade granola, snacks, smoothies and dinners like Sharon's spaghetti from scratch while keeping to a budget.
Cowboy up your cooking and create nutritious meals like homemade granola, smoothies, and hamburgers for your family as they go back to school.
Help O.L. Shepp to build an audience for "Cooking For The Health Of It" and her future literary works by signing up today at OLShepp.com.