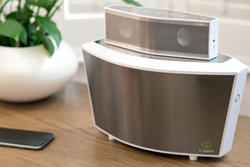 With Ark, you have hands-free Bluetooth capabilities, portability and an expandable sound experience like no other.
Portsmouth, U.K. (PRWEB) February 10, 2016
Ark, a two-piece speaker system that combines a detachable mini Sound Bar and powerful Bass Station, reached its £35K Kickstarter goal within three days of launching. The Cowin team is announcing a £70K and a £100K stretch goal to offer backers extra value. Ark's unique dual speaker design offers portability, superior bass and high quality sound that adjusts to any room's individual acoustics.
Because the Cowin Music team has reached its original £35K funding goal, the creators have announced new stretch goals available on Kickstarter. If the campaign reaches £70K, backers may choose to add a Carbon Fiber Skin decal to their Ark's front and back Bass Station plate in black, white or red. If the campaign reaches £100K, backers may elect to purchase a limited edition Monaco White or Monaco Black Ark speaker.
"We are thrilled to see all of the positive feedback and the excitement continuing to build around Ark," James Feng, Cowin Company Director, said. "Many of our backers love that Ark serves as both an at-home sound system and a portable speaker with its detachable Sound Bar. With Ark, you have hands-free Bluetooth capabilities, portability and an expandable sound experience like no other."
Using its unique Magnatec technology, Ark's dual parts can be connected into a single speaker unit or positioned separately while still working in unison to adapt with any room's individual acoustics. Ark's separate Bass Station boosts bass frequencies in a user's music to a much deeper level. Ark is perfect for connecting any Bluetooth enabled television, game console, smartphone, MP3 player, tablet or computer for super rich audio playback. Ark's Magnatec technology also wirelessly charges the detachable Sound Bar, dubbed 'Cruze', and any compatible mobile phone.
Users may also add multiple Ark Bass Stations throughout any room to add more intensity to the sound or to expand the use of the product into other rooms around their home. In addition to Ark's flexibility, the product's two speaker drivers, passive radiators and 3.5" ported subwoofer come together to deliver an unforgettable sound experience.
Ark's campaign ends on February 28, which means there are 17 days left for potential backers to purchase an Ark. While the Super Early Bird pricing has sold out, there are limited Early Bird Arks still available at £120. For more information on Ark, visit the campaign at: bit.ly/CowinArk_KS.
ABOUT COWIN MUSIC
Cowin Music was founded in 2013 with a mission to become a leader in the global audio marketplace. Cowin speakers are innovated, designed and crafted by a team of audio specialists and researchers and are further endorsed with 130 patents. To learn more, visit http://www.cowinmusic.com.