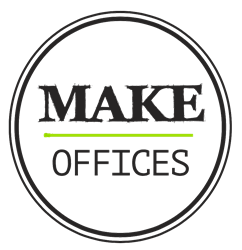 Washington, DC (PRWEB) November 15, 2015
UberOffices, the leading Washington, DC based coworking and office space rental company, announces that it has rebranded itself to MakeOffices, effective immediately. The brand change reflects an evolution for the company and its community, more accurately aligning its mission and expansion plans.
"Now, our brand will more accurately reflect the type of community our members are a part of, as well as our company's growth plans for the future," explained Raymond Rahbar, founder and CEO of MakeOffices. "At MakeOffices, we're not just building physical space for new and ongoing businesses, it's more than that; we are giving our members the tools to make something of their companies and join a rapidly expanding community of thinkers and doers."
The core mission of MakeOffices remains the same: to equip everyday entrepreneurs and businesses with functional, efficient, and affordable workspace alongside a collaborative and enthusiastic community. The company attributes the flexibility of its month-to-month leases, the transparency of its pricing, and the inspiring atmosphere of its communities to its steady growth and success. These factors have helped MakeOffices emerge as the unquestioned leader in the coworking economy in the Washington, DC area.
###
About MakeOffices
MakeOffices empowers entrepreneurs and innovators with the workspaces and services to grow their businesses. MakeOffices currently operates four locations across Washington, DC, Maryland, and Virginia, and will take its coworking concept to Chicago and Philadelphia by the end of the year. For additional information, please visit http://www.makeoffices.com.