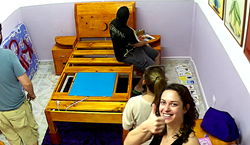 An entertainment experience unlike anything else cruise ship passengers and visitors on vacation will find in Cozumel.
Cozumel, Mexico (PRWEB) February 28, 2016
Highly regarded and popular U.S. private investigator, L Scott Harrell, has drawn on his decades of experience of solving puzzles, unraveling mysteries and creative problem solving to open the first "escape room game" in Cozumel, Mexico. Cozumel Detective Adventures' "Escape Room Cozumel" was recently listed in Lonely Planet's "Top Things to Do in Cozumel." It is the first escape room game to open in the popular tourist destination of Cozumel and one of only three currently operating in Mexico.
What are escape room games? Escape Room Cozumel is an immersive live action adventure mystery that challenges teams of two to six "junior detectives" to solve a series of mind bending puzzles and riddles, uncover clues, unravel mysteries and complete their mission in sixty fun-filled minutes or less. Escape the room games are one of the hottest new trends in entertainment. Escape room games originated with popular computer escape games and evolved into physical experiences. They have become immensely popular in the United States, Canada, Europe, Asia and are now gaining ground in Latin America; escape rooms are quickly becoming sought after tourist attractions across the world.
Escape Room Cozumel incorporates a variety of elements and real-life scenarios from L. Scott Harrell's actual investigations into his games. For example, in the popular "Maddie's Missing" escape room, players are asked to help find a little girl who has gone missing. They must search her bedroom, the last place she was seen, for clues and solve the mystery of her disappearance in order to successfully "escape the room" in less than one hour. "Throughout my long career in private investigation, many people have told me that they've always wanted to become a private investigator because they thought that they had the skills and personality to succeed." said Scott Harrell, "I've taken great care to design the scenarios and challenges in our escape rooms in a way that uniquely tests those notions and provides an entertainment experience unlike anything else cruise ship passengers and visitors on vacation will find in Cozumel." All three Escape Room Cozumel game rooms were designed to be fun and family friendly, foregoing any horror, scary or adult themes.
A recent player, Kim Murray, had this to say on TripAdvisor, "A group of us did the Maddie's Missing escape room today and it was a total blast! We didn't complete the mission, but got really close, and had a ton of fun trying. The puzzles were challenging but solvable, and you could tell a lot of thought went into them. This was our first time playing an escape the room game but we all agreed that we can't wait to do another room, and are looking forward to playing the next room. Hopefully, this time we'll escape and be qualified detectives!"
Escape Room Cozumel is located in downtown Cozumel inside of Kelley's Sports Bar on Avenida 10, between Adolfo Rosado Salas & Calle 1 Sur, just two blocks from the waterfront.